State Assembly District 1 050212
A Fringe Editor Report/Analysis/Wing Nut Opinion
ROBERT MEACHER Democratic
E-MAIL: meacher.robert@gmail.com
County Supervisor/Businessman
RICK BOSETTI Republican
(530) 223-4442 (Business)
Businessman/Redding Councilman
BRIAN DAHLE Republican
PO BOX 100
BIEBER, CA 96009
WEBSITE: www.briandahle.com
E-MAIL: info@briandahle.com
Farmer/County Supervisor
DAVID EDWARDS Green
E-MAIL: 1st.assemblyman@gmail.com
Water Ecologist
CHARLEY HOOPER Libertarian
WEBSITE: www.hooper2012.com
E-MAIL: hooper@objectiveinsights.com
Small Business Owner
In a previous analpinion I described some of the reasons it is so hard to get a forward thinking candidate, and high among those reasons were that 1. People vote like they choose religions and sports teams, finding affiliation first and forming beliefs secondarily; 2. Media creates its own circus, distorting public opinion and in turn creating public opinion; and 3. The "synergistic" effects of human predispositions, a cultural propensity for contest rather than cooperation, a binary party system, and the context that creates.
Reactionary politics and real threats
Currently, more than half the people in the cow counties feel under attack on many levels. "Environmentalists" and liberal legislators threaten water rights, imperil land use, increase the costs of being rural through building codes, air quality standards, surface water standards, firearms use and ownership, traditional forms of recreation, and even the sanctity of the family.
The sense of being under attack has driven many rural voters to be more conservative generally, and so there is a tendency to become more traditional; in some cases, Taliban style traditional, meaning that queers and potheads are not welcome in the places where Moo is spoken.
As a result, firearms ownership, property rights, and water rights are pretty well covered by most of the state candidates, but not medical cannabis and marriage freedom, which are indicator issues; a candidate who insists on protecting those rights might easily be the most moderate. A legislator who will stand up for unpopular liberties will stand up for your liberties when you become unpopular.
The issue is to unite freedoms, protect those personal liberties we once cherished and which are under constant assault. At stake is our right to be different, our opportunity to determine the course and meaning of our own lives, to love who we wish, to find healing how we find it, to be secure in our homes, to make a fair livelihood, to see our taxes support our principles, and not used to rain death on people far from us.
The subtle and obvious attacks on rural places and the traditionalist response means conservative Republicans are doing well in the hinterlands right now, and so it's tough for a Democrat or liberal of any stripe to get elected, or even a moderate Republican or Democrat who is willing to cross political lines to make good government.
Let's meet our lovely contestants.
Robert Meacher, Democrat
Meacher is a lone Democrat, has been a supervisor in Plumas County, and has served on Regional Council of Rural Counties (RCRC) but doesn't seem to have the organization needed to take on Dahle and Bosetti, which might mean the race in November will be between two Republicans. When asked at a League of Women Voter's candidate's forum if he favored the legalization and taxation of cannabis, Meacher responded to the question with a question, asking what the particulars of such a measure would be; hear it from KCNO here While the question/answer wasn't as terrible as it might have been, neither was it very revealing. Meacher, expecting that in times like these someone would ask such a question, might have had a plan prepared, such as "I would support legalization for adults over 21 made available from liquor stores with taxes similar to those of tobacco and a license similar to alcohol." Or, he might have said "I'd support it only for those already certified legally insane dispensed from a pharmacy with a tax of $1,000 an ounce", or at least something more "leaderly" than "what, what what". Even so, Meacher represents the moderate position on this issue in this race, such as it is.
A plus is that Meacher is purported to understand water issues and rights. That is a very big plus. Read his responses to questions here. Meacher has expressed a willingness to "cross the aisle" but he probably doesn't have the stroke to take on the front runners.
Meacher should show well against:
David Edwards, Green
Yes, that's right, David Edwards is a member of the Green Party. Probably don't need to say much more than that. It isn't very likely that a Green Party Candidate is going to be elected in Northeastern California, at least not in a year beginning in 20xx. Edwards does support decriminalization and taxation of cannabis, but that, on its own or even coupled with a willingness toward marriage freedom simply isn't enough. Meacher should beat Edwards. And he should beat:
Charlie Hooper, Independent
Meacher, representing one of the major parties, should beat Hooper, however, Meacher might not beat him by as much as Edwards, or as much as one might think. Nearly one voter in five is registered "decline to state", and Hooper is an Independent. He has no political experience, and probably not much of a war chest, but he's closer to old school moderate than the others. He has an impressive credential, is a published author, and intends to run for office because "Sacramento needs some adult supervision." Hooper is nearly as naïve and simplistic as most local third party candidates, but not quite, and he exhibits deeper thought than the other candidates. See his rather rational views on the issues HERE and his answers to questions here
Brian Dahle, Conservative, is a 12 year Lassen County Supervisor who has been active in the Regional Council of Rural Counties (RCRC), an organization which has benefited Sierra County in many ways. He has dozens of endorsements; prominent among them is Sierra County Supervisor Lee Adams, who knows Dahle through RCRC.
However, Dahle hasn't shown much compassion or critical thought. The Lassen County Board of Supervisors, of which Dahle is a member, has made it much more difficult for medical marijuana patients to get medicine, by banning dispensaries in the county and severely restricting patients from growing. The board left medical marijuana use itself intact, since California law is quite clear about that, but wherever possible the board sided with the federal government on the issue, showing no leadership at all. Indeed, at the League of Women Voters forum (see above) Dahle blamed the voters for making life difficult for him. Rather than recognizing the will of the people (medical marijuana was passed in 1996, reaffirmed by the legislature in 2003, and the majority of voters polled still support it) Dahle blamed voters for putting him at odds with his federal masters, "ballot initiatives make it very difficult for those of us who have to actually institute the law". The record shows that the board wrestled with the issue until they finally did what they were always going to do, based on the recommendation of Steve Warren, the sheriff of Lassen County, who has proudly stated that he will consider marijuana illegal even if the feds legalize it. Very well informed and completely unbiased counsel from county law enforcement.
Dahle showed no willingness to execute the will of the people as county supervisor, and I have no reason to believe his record as an assemblyman will be any better. The fealty to the feds over his fellow Californians is part fetish and part fear, and it may be that nearly-state assemblyman Dahle would like to be nearly a congressman.
But, America isn't great because some guys were brave and stood up to tyrants and despots 250 years ago. America is great, if it is still great, because we stand up to tyrants today. Dahle is essentially saying "you Minutemen make it very difficult for those of us who have to actually institute the law". Dahle has also reportedly signed an anti-choice pledge, and would likely have trouble ensuring a woman's right to make medical decisions over her own body.
Dahle is definitely Cow County White. Among his core beliefs: no distribution of wealth. Probably that means no social programs, no taxation of the 1%, and so must mean no more agricultural subsidies or other ag benefits. Good man. And, actually, Dahle does seem to be a good man. He works hard, treasures his family and friends, and loves and understands the rural life. At the present time, we predict Dahle will prevail over everyone including Rick Bosetti.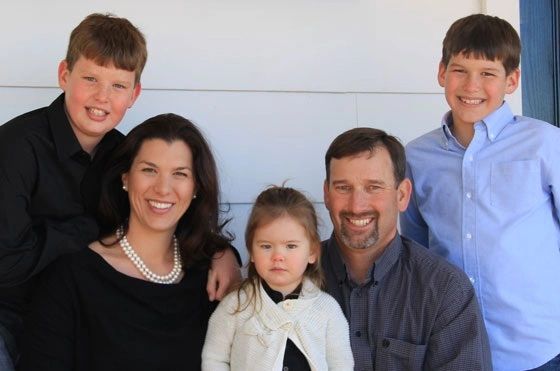 A Good Man, Dahle and family; we'll look for the steely-eyed Roslyn, center, to run for the assembly someday. Link.
Rick Bosetti, Republican
Bosetti is a Redding City Councilman, one of three that is facing recall for their votes to close cannabis dispensaries in the City of Redding. Furthermore, a judge swiftly ruled that the city doesn't have the authority to close the dispensaries, so council members earned nothing for their cowardice. It should be noted that one dispensary owner opposed the recall, because, he says, the council just got bad legal advice. I'll counter by saying that legal advice notwithstanding, our elected officials should protect our freedoms, endlessly. Had they taken that course, there would be no need for a recall.
"The grounds for the recall are as follows:" "You have continually ignored the rights and freedoms as guaranteed the people by the Constitution of the United States of America, and the Constitution of the State of California." "You have discriminated against people based on their choice of medicine, and told them that they don't need safe access after harvest season had ended, leaving thousands without their medicine if you are successful in closing down the collectives." From the complaint. If you are a Redding resident and wish to help in the recall, a petition to recall Bosetti is HERE
Bosetti has the distinction, I guess, of being endorsed by Tom Dotta, head honcho of all Sierra County Republicans. He's also got quite a few other endorsements, with more of those being from urban concerns, such as the California Restaurant Association.
Ain't no good ol' boys here! Bosetti getting some Benjamins from the CRA.
Bosetti is more concerned with capitalism than Dahle, in my view; Dahle is concerned about saving money and being fiscally responsible, whereas Bosetti is concerned about the sweet smell of money making more money. Dahle is more concerned with preserving the rural way of living; Bosetti is more concerned about cities and towns in the north state. In most respects, Bosetti simply isn't Dahle. He's "Dahle lite" with a townie twist.
Bosetti has a nice fat war chest, and he's got the vote of developers, but Dahle is more presentable and his network, while not quite as large as Bosetti's, is broader. There are more urban than rural voters in most cow counties, but I still think Dahle is ultimately going to prevail.
I won't vote for him, though. Most likely, unless something major changes, I'll vote for Charlie Hooper, who, so far, hasn't attempted to keep sick people from their relief. Further, there's no way he'll win, so I'm off the hook for whatever goes wrong; voting third party to register my discontent with the Republicrats.
What the hell, let's vote for Charlie Hooper
Good Luck to us all!