Woody Biomass Utilization and the Sierra Nevada: A Compromise
By Christina Prestella – Sierra Business Council
So often in America, we find ourselves in dispute over the best way to manage our resources. Shall we protect them and endanger the economy? Or shall we use them and put our environment at risk? Either way, we jeopardize a form of capital, whether it is natural, social, or financial. At the Sierra Business Council, our mission is to pioneer approaches which foster all three of these types of capital, without compromising any of the three. The woody biomass utilization argument mentioned in last week's edition of the Sierra Prospect is a great illustration of a lack of agreement in response to providing energy to our Sierra Nevada communities. Instead of utilizing the massive overgrowth of woody materials in our own backyards for energy, we depend on foreign sources which poison our air and our economy.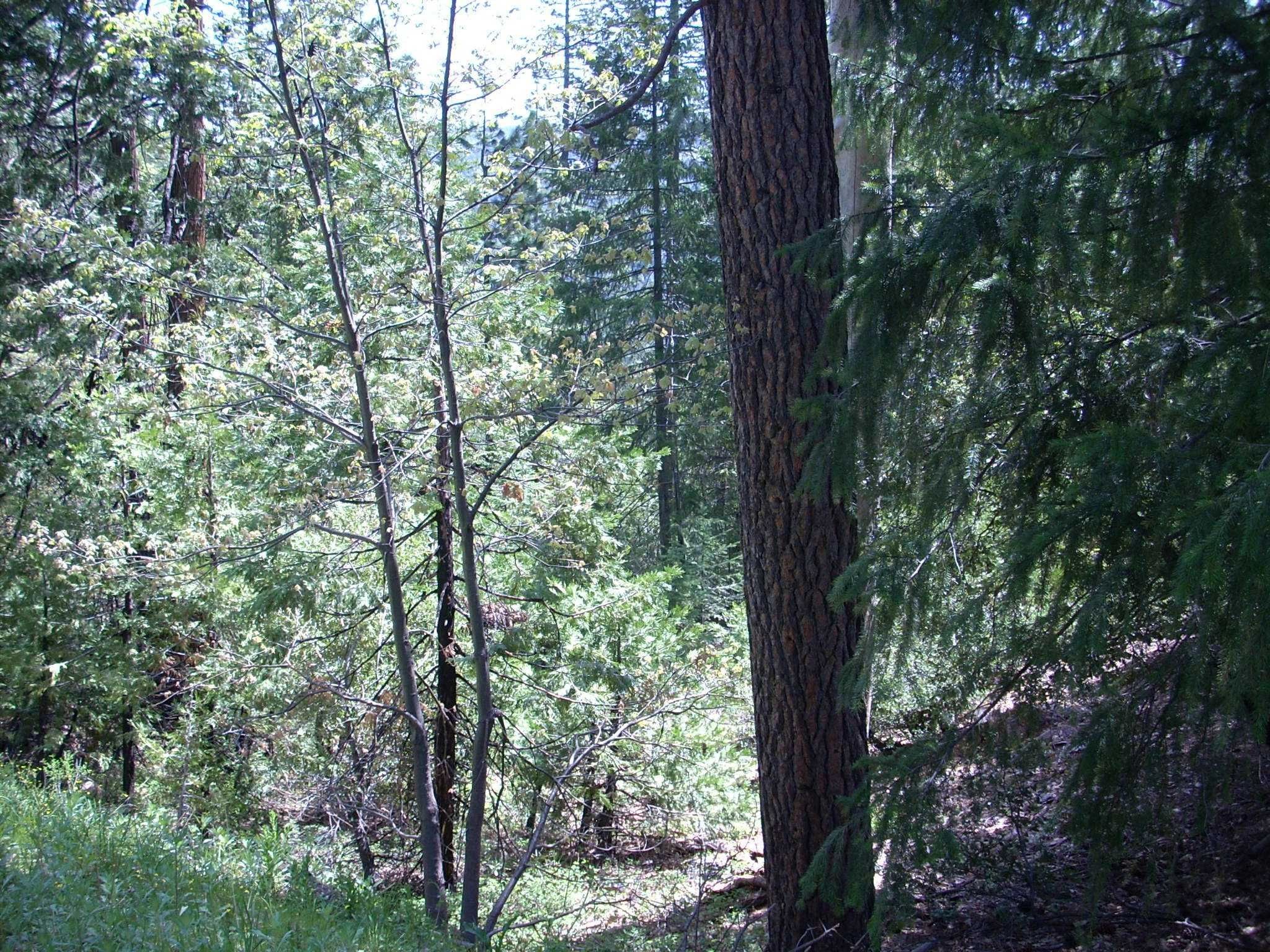 Photo of West Side vegitation courtesty Sierra County Fire Safe and Watershed Council

The National Renewable Energy Laboratory reports that for every megawatt of woody biomass power produced, 4.9 jobs are created. Additionally, by increasing use of renewable and alternative fuels, we reduce the use of petroleum-based fuels. The USEPA has presented a lifecycle analysis which shows that the use of woody biomass results in a 90.1% reduction of lifecycle greenhouse gas emissions, relative to the petroleum fuel that is being displaced. Local timber milling and utilization of woody biomass is clearly a less polluting form of energy, and provides good, local jobs, so why is the industry failing?
The answer lies in the costs. Operation of biomass facilities costs about 7 to 10 cents per kilowatt-hour of energy produced. If we compare this to the roughly 5.5 cents per kilowatt-hour for coal generated power (Scientific American), it quickly makes sense as to why our coal-dependant state has put little to no resources into implementation of policies related to biomass utilization. It simply costs more money to produce energy from biomass than it does from coal. But what if we could find ways to reduce the costs of providing renewable biomass energy to our region's counties? If we can revitalize the failing timber market by encouraging sustainable forest stewardship and biomass utilization, not only do we reduce greenhouse gases, create jobs, and provide renewable energy, we also improve forest resiliency and wildlife habitat as an added bonus.
Ideally, here's how it would work. Woody biomass supply sources include timber harvest, forest fuels treatment, forest products manufacturing residuals, urban wood waste, and agricultural byproducts. In essence, we are recycling waste from processes required to build our commodities and turning that into to power for our homes. Landowners sustainably manage their forests, pulling out small-diameter trees and downed woody debris. They transport and sell these materials to a mill and then the byproducts are moved to a woody biomass utilization plant within close proximity. The biomass facility turns the byproducts into energy in the form of heat and power. The resulting power gets introduced into the grid, and biomass facilities receive a set dollar per kilowatt-hour from the Public Utility District. Sounds easy right? If it was, you wouldn't be reading this article.
Availability of feedstock is not necessarily the problem; the problem actually involves the costs related to sustainable management practices and delivery of the feedstock. Forest management of public and private lands is expensive, especially when there is nowhere close to take the materials. Instead these materials are often burned onsight, or aren't removed at all. High costs of transporting the materials to the mill and biomass facilities, and the closure of several mills in the area has resulted in high costs which outweigh the value of the energy. If landowners, land managers, and sawmill operators could receive some monetary value for performing important forest management and biomass utilization actions, costs of generating energy could be significantly lowered.
The story of the Loyalton saw mill and electric power generation facility can provide some insight into the process. In January 2001, Sierra Pacific Industries (SPI) announced that the plant's operations and 150 positions were no more. The recent reductions in supply from the US Forest Service forced the closure of the historic mill, and hit the small Loyalton community hard. All that remained after the closure was a woodchip burning electric generation plant and 18 years remaining on a 30-year contract to supply energy to the Sierra Pacific power company (no affiliation with SPI). Today the plant, with a 20 megawatt capacity, continues to produce 10 megawatts- enough to power 10,000 homes. With a collaborative effort between remaining staff (20 or so employees) and management, the mill went from being a lumber producer to a green energy business. The cogeneration plant is supplied in part from small diameter wood resulting from USFS thins to prevent wildfires. They also source material from landfills, ranging from Reno to Sacramento. The company increased its usage of landfill diversion material from 10% to more than 50% in 5 years. Each of these benefits not only continues to support the Loyalton community through green jobs, but also provide ample greenhouse gas reductions in the process by financially incentivizing methods to reduce wildfires and divert landfill materials, throughout California.

Prospect File Photo


Here at SBC, we are facilitating several ways to bring revenue to the timber industry. Currently, the United States is grappling with the option of creating a cap and trade approach to curbing carbon emissions. A voluntary carbon trading market has been developed in response to these proposed policies. Forest carbon offsets have become an integral part of this market, incentivizing projects which conserve, restore, and sustainably manage privately owned forest properties statewide. Through development of carbon projects, landowners take on the responsibility of managing their property to meet high standards which ensure real, permanent and additional emission reductions. Landowners are still allowed to commercially harvest their property, maintain all control and stewardship over their lands, but receive an annual monetary incentive to do so- sustainably. Environmental co-benefits resulting from these projects include habitat restoration, forest resiliency to wildfire, reduced risk of pest disturbance, and increased water quality, among many others. Because of this long list of co-benefits, forest carbon offsets currently command the highest price per ton for land-based offsets, nearly $10 per ton. For more information on this process, check out SBC's Sierra Nevada Carbon Cooperative.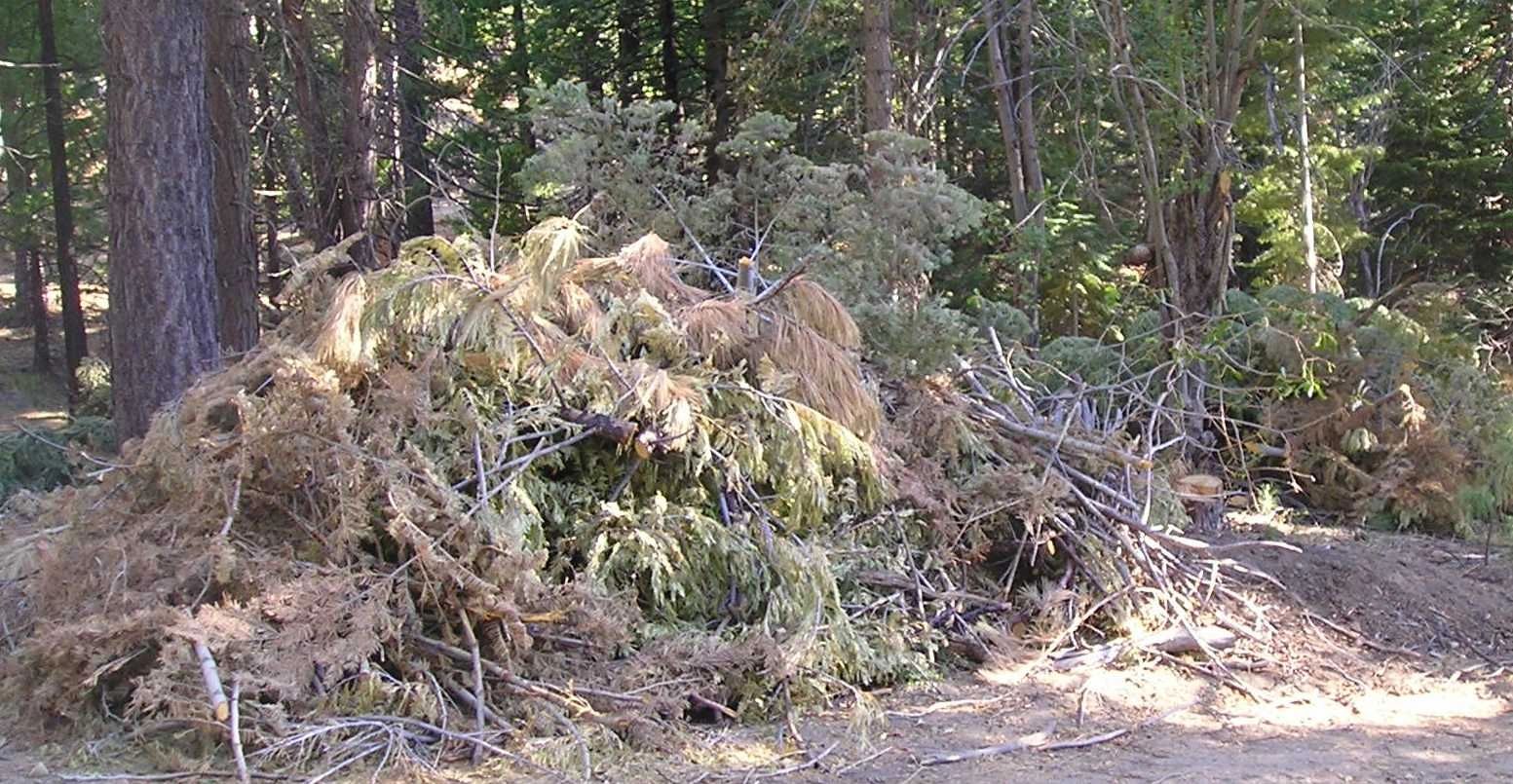 Prospect File Photo
Another approach SBC has taken is initiating collaboration with landowners, agencies, and decision-makers to develop methods of revitalizing the failing timber market through encouragement of biomass utilization. Check out this discussion from Capital Public Radio's "Insight". In this interview, you will hear from Sierra Business Council's President, Steve Frisch, Mark Pawlicki from Sierra Pacific Industries,  David Edelson from The Wilderness Society, and El Dorado County Supervisor, Ray Nutting. They describe their communities' reactions to the mill closures in California and the cascading implications the closures will have in the region, and initiate a short discussion as to what can replace the work of the mills in the future. The part you will be most surprised with is the level of agreement-- across the board: we need to encourage policies that promote natural forest management, continue to keep our mills open, and encourage the utilization of woody biomass for power. Otherwise, we face catastrophic wildfires, continued dependence on foreign fuels, and a downturned timber economy; all of which hinder our region's valuable natural, social, and financial capital, and compromise the ability of our region and its rural communities to stay afloat in hard economic times like these.
Policies in the United States, and more specifically, California, need to recognize that compromising our forests in lieu of drilling for oil is the wrong approach to take. Legislation needs to be in place which requires the natural management of our forestlands, providing environmental co-benefits while also encouraging energy production from a carbon neutral source, like woody biomass. By supporting these activities, we construct a sustainable and local economy for timber- one of the most valuable ecosystem services our region can naturally provide.
Christina is a Project Manager at the Sierra Business Council. Her position managing the Sierra Nevada Carbon Cooperative puts her at the forefront of the current and upcoming global efforts in response to climate change issues.  Currently, SBC is exploring the development of regional strategies aimed to promote adaptation and mitigation to the effects of climate change in the Sierra Nevada. Learn more at www.sbcouncil.org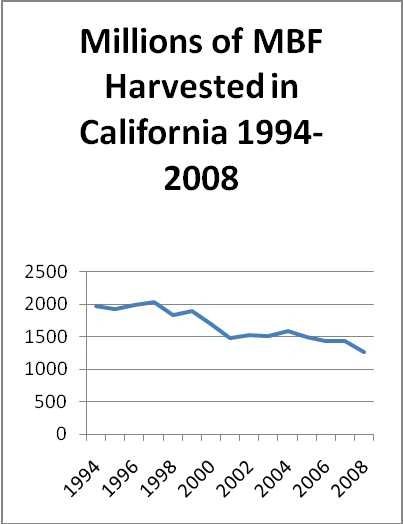 Illustration: Graphs created using USFS and the California's Board of Equalization data showing Metric of Board Feet (MBF) harvested annually.