Winners of the 2011 Big City Rod Run in Sierra City
by Kathy Breed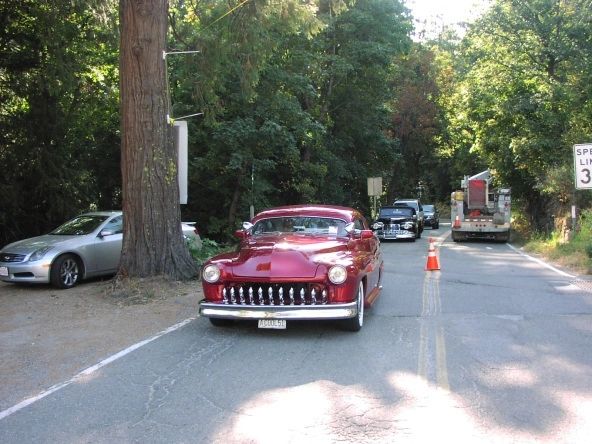 Photos courtesy of Don Russell of the Mountain Messenger
Best Trunk To Stuff a Body In
John & Nancy Murray, Grass Valley
1968 Pontiac Firebird
Tom's Snowmobile
Best Sled
Ron & Betty Vicari, Carmichael
1932 Ford Vicky
The Buttes Resort
She's a Real "Butte"
Gene & Mida Sorensen, Cameron Park
1955 Chevy Bel Air
Sierra Country Store
Best Window For Pressed Ham
Doyle & Judy Frazier, Graeagle
1955 International Pick-Up
Herrington's Resort
A Class Act
Rusty & Liz Dodson, Quincy
1958 Corvette
The Red Moose
Best Gasser
Brad & Janet Blake, El Dorado
1948 English Ford Anglia
Mountain Creek Resort
Best Chrome
Jeff & Connie Litz, Portola
1933 Chevy Coupe
Town Tramps
Best Back Seat
Robert & Annette Karle, Folsom
1939 Chevy Master Deluxe
Sierra Skies RV Park
Best Trailer Queen
Lee & Joyce Mane, Petaluma
1967 Camero
Sierra County Sheriff
Best Get Away Car
Doug Painter, Grass Valley
1972 Pontiac Lemans
Red Light Runner
Richard & Vera Blankenbiller, Sierra City
1982 Corvette
Sardine Lake Resort
Best Catch of the Year
John & Michelle Metaxas, Folsom
2007 Calloway
My Sisters Cottage
This Ones For the Girls
Bud & Nancy Clark, Cool
1951 Mercury Coupe
Gallows Pizza
Best Hung
Jay Miller, Sparks NV
1966 Chevelle
Sierra City Fire Dept
Just a Hunk of Burnin Love
Dennis Stinnett, Sacramento
1970 Chevy Pick-up
Old Schoolhouse Gallery
Best After School Cruiser
Ian Burkhead, Quincy
1930 Ford Coupe
Mountain Messenger
Bad News
Dallas Colbert, Elk Grove
1949 Ford F1 Pick-up
Old Sierra City Hotel
Saturday Afternoon Drinking Club Pick
Tom & Liz Coleman, Gridley
1968 Camero
Bassett's Station
Best Paint
Jim & Denise Blake, Newcastle
1940 Ford
Riverside Inn
Just Room for Two
Goose & Phylis Helrich
1933 Chevy Coupe
Downieville Outfitters
Best Moon Shiners
Ron & Delia Bonta, Portola
1934 Chevy
High Country Inn
She Can Fly
Weezie Cox, Sierra City/ Sparks
1963 Split Window Corvette Fuelie
Sierra Motors
On the Road Again
Buck Yeager, Reno
1932 Ford Roadster
The Lure
The One That Got Away
Gene Sobrero, Clio
1940 Ford
La Cocina De Oro
Nacho Mamas Car
Dale Cox, Sierra City/Sparks
1963 Split Window Corvette Fuelie
49 Wines Gold Digger
Al & Mary Lou Reichmuth, Auburn
1934 Ford Sedan
Fox Parlor
Foxiest Ride
Ken Muir, Cromberg
1958 Corvette
Sierra County Prospect
Front Page News
Curt McBride, Portola
1962 Chevy Nova
Doug's Pick
Best Mopar
Todd Aylward, Quincy
1934 Plymouth fuel injected Coupe
Big Springs Garden
The Flower of the Lot
Johnny & Sharron Miller, Folsom
1935 Chevy Master Coupe
Sierra Booster
Hal's Blast from the Past
Bob & Beverly Kay, Forest Hill
1947 Lincoln Continental
Darby Hayes
Most Photogenic
Brad & Janet Blake, El Dorado
1948 English Ford Anglia
The Highwaymen Norcal Car Club of Sierra City presented the "Best of Show" award to Dan & Jessee Marovich, Sierra City, with their beautiful black 1963 Pontiac Catalina.
A HUGE thanks to all of our sponsoring businesses and to the following individuals for all their hard work to make this show a success:
Lola Haddox
Kevin Rinker
Ron & Cheryl LaBrie
Tom & Susan Tomlinson
Denise & Robbie Brown
Della Brooks
Mary Ervin
Dan Cross
BK Powder Coating, Inc. of Grass Valley
Mike Rice, Budweiser
Our Photographers
Thomas Edgman
David Keyes
Gordy Bell
John Geiger, web design, photos, and hot rod film producer
A surprised Dan
Marovich
, our custom best of show award maker
and to Cassie Koch & Chris Strine who covered for us at the store so we could go play with cars.
It's amazing to see what we can do when we all work together:)
Larry and Kathy Breed
Hosts of The Big City Rod Run.
We hope to see everyone again next year.