Roberti Solar Array sends the Sun to your Electrical Box 101911
The Roberti family welcomed the community to view their new 500 KW grid-tie solar array in the Sierra Valley. This new facility catapults the Sierra Valley full steam into the green electrical age.
Dave Roberti hosted a public viewing of the gleaming array, which soaks the sun on the family's Dyson Lane ranch. Attending the viewing were dignitaries from Plumas County including Planning Director Randy Wilson and Supervisors Terry Swofford and Lori Simpson, as well as members of the public.
Bill Bate, local property rights activist and Lori Simpson, Chair of the Plumas County Board of Supervisors inspect the array and discuss local issues.
The array, which rotates through the day to best catch the sun, boasts nearly 2500 solar panels covering about 3 acres. The array was provided by Dan Pellegrini from Cooperative Community Energy, put into place by Rick Lavezzo and Dan Hubiak from Arraycon, and wired by Brain Bibby of ICR Electric.
Dan Pelligrini, Community Cooperative Energy
Dave Roberti was clear that the $2 million project couldn't have come together without help from a lot of people, and maybe some Divine inspiration. He thanked the Plumas County Planning Department, and in particular praised Bob Marshall and Plumas Sierra Rural Electrical Cooperative, who worked to accommodate the array, which produces a significant amount of power.
The array is a gleaming invitation to the future. PSREC isn't ready to accept another 500 KW system quite yet, but the Robertis have proven the power of the Sierra Valley sunshine can produce more than just great hay and prime beef, it can produce electricity, too.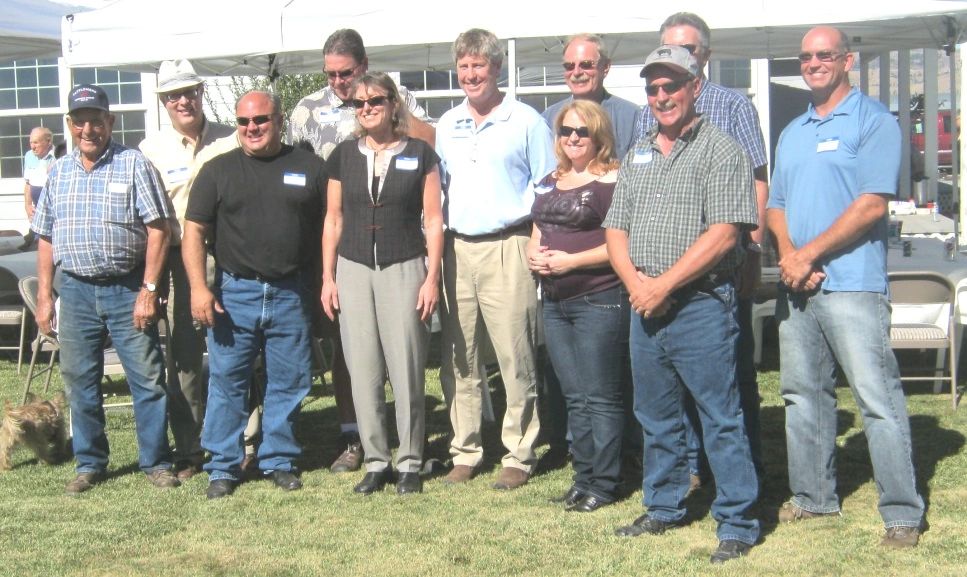 From Left to Right:
Elmer Roberti Owner and Operator of Roberti Ranch
Dan Pellegrini CC Energy. He is the vendor. (Back Row)
Rick Lavezzo Arraycon, Contractor, Owner
Brian Bibby ICR Electric, electrician (Back Row)
Erin McMahon Engineer. Energy consultant
Bob Marshall Plumas-Sierra REC Manger (Back Row)
Randy Wilson Plumas County Planning Department Director (Back Row)
Stacy Kennedy Morrison Company - Grant Writer
Hugh Mattlingly Tri- counties Bank, Chico, VP of Commercial Lending (hidden back row)
Dave Roberti, Owner and Operator of Roberti Ranch
Dan Hubiak, Arraycon, Project Development