Quagga, Zebra, and Independence Lake Access  052310 
The Board of Supervisors on Tuesday, 18 May, heard a number of separate issues all rolled into one tidy story.
The Board heard about the problem of Aquatic Invasive Species, or AIS.

Timeline, from UC Davis link, below
There are several aquatic invasive species to worry about, some are animals, primarily gastropods, and some are invasive water plants.
Craig Threshie, with the Truckee Regional Aquatic Invasive Species Prevention Program, made a presentation about invasive species.

Asian Clams in Tahoe, from U.C. Davis AIS site
It turns out there is a fair chance of local lakes being taken over completely by invasive species. Mussels and clams are problematic because they can "clam up" and go long distances without direct access to water. Their little offspring can travel in wet rope or weeds, but especially in the cooling water channels of a boat motor.
The lakes of the Sierra are susceptible to infestations by aquatic invasive species, and indeed, some weeds, Asian clams, and gold fish have found their way into Tahoe. There is an inspection and fee for boats entering Tahoe, for more information go HERE. 
Also find more information about AIS in Tahoe here.
More about Mr. Threshie's work is found HERE:
For more on Quagga, go here
However, all this AIS information came home when the discussion turned to Independence Lake.
Readers of the Prospect know that The Nature Conservancy has purchased the land around the lake, largely using public funds. TNC intends to protect the area around the lake. See other Prospect Stories Here and Here.
Currently, according to Mr. Chris Fitchel of TNC, boats with motors are being kept off Independence Lake because of, among other reasons, the danger of having uninspected, un-decontaminated boats entering the water, perhaps bringing AIS.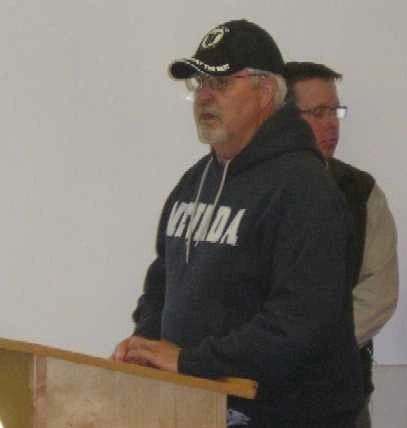 Mr. Bill Trout.
This is especially important, as Bill Copren from Trout Unlimited explained, because the lake is one of the last fisheries for the Lahontan Cutthroat Trout. The United States Geological Survey is, for some reason, responsible for the LCT in Independence Lake. Mr. Copren and those of his ilk would like nothing better than to return native trout to all the streams in the headwaters and clean the waters of the mismanagement and contamination they've suffered these past few hundred years.
The Friends of Independence Lake have pointed out that under the new administration, users will lose valuable rights, including the rights to a navigable waterway.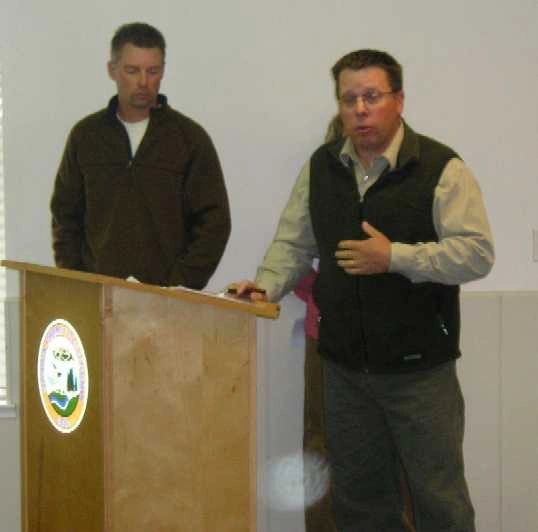 FIL
It is likely a comprimise will be worked out regarding Independence Lake, but there can be no compromise with aquatic invasive species.
Quagga  From site, above