Portola City Council Struggles with 21st Century 010911
The Portola City Council awoke from a long sleep to find itself with two applicants for a cannabis dispensary in the city.
According to an article in the Portola Reporter, which you can find
HERE
Portola's official position, for the moment, is that it isn't allowed because it isn't specifically permitted. This is not Portola, Russia, it's the one right across the border in Plumas County.
In the Portola corner of the Land of the Free nothing can be permitted that can't be dreamt of by the city fathers. Maybe.
According to the article, the applicants and Portola have just started a community discussion. The Portola City Council decided to trail the item to the next meeting, perhaps to see if it will go away on its own.
As far as we know, there haven't been any permits for a cannabis dispensary in Sierra County. However, if there is one, there should be no reason for any meetings, the county should simply issue a permit.
Sierra County Code, Residential Commercial:
Permitted Uses: Retail business or service such as grocery, fruit or vegetable stores, bakeries, drug stores, barber and beauty shops, florists, clothes cleaning and laundry pickup stations, laundromats, variety stores and the like. Business, professional and medical offices. Restaurants, cafes and cocktail lounges subject to obtaining a use permit for the sale of liquor, beer or other alcoholic beverages by the glass, or for consumption on the premises. Social halls, lodges, fraternal organizations, and clubs.
Community Commercial:
Permitted Uses: Permitted uses are as follows: Stores, shops and offices supplying commodities and performing services, such as department stores, grocery stores, furniture stores, specialty shops, banks and other financial institutions, business offices, personal services, antique shops, artists' supply stores, restaurants, cocktail lounges, theatres, and similar enterprises, provided that such enterprises are conducted within a completely enclosed building, business and technical schools, schools and studios for art, music, dance and photography, commercial parking lots, hotels, motels, motor hotels, sales and service of new and used cars, mobilehomes and boats, automobile service stations, public and quasipublic uses appropriate to the community business district, including communication equipment buildings, bowling alleys, billiard parlors, garages for minor repairs, night clubs, dance halls, skating rinks, laundry, cleaning and dyeing establishments.
Under Residential Commercial, we find the phrase "and the like." That term allows uses not specified.
In the section on Community Commercial we see the term "supplying commodities and performing services, such as…".
In both these instances there should be nothing in the ordinances which regulate cannabis dispensaries as different from other businesses including pharmacies. For that matter, there would be no impediment to opening a commercial grow, with nursery for selling clones.
And, that's a problem. Many cities are taxing cannabis now; it's a way the state is allowing counties and cities to generate revenue.
The Fringe encourages the county to create a framework for medical cannabis distribution. The county should discourage large grows with zoning restrictions and allow people with 215 doctor's recommendations to grow a surplus for sale. The county should encourage a dispensary and a cannabis broker to distribute locally grown cannabis to dispensaries outside the county.
The discussion here isn't about the "morality" of cannabis, nor its medical effectiveness, nor any other discussion which is really not part of politics in our nation. It should be about managing a commercial resource so that those who most need a legal income can find one. It's about growing something in the county for export to other counties with a resulting inward cash flow.
Should we grow opium poppies as well?
In the Land of the Free, and in the land of institutionalized capitalism, the answer is, perhaps, yes. What about meth labs?
There would be no illegal meth labs polluting the environment and endangering communities if meth were legally avail for addicts, and if treatment weren't so disruptive and degrading. A whisky distillery or beer brewing facility would be welcome in the county, and few drugs are as dangerous as alcohol.
In any case, the discussion is about cannabis, which is not implicated in the kind of misery heroin, or speed, or for that matter, alcohol, are.
The Board should consider creating a tax on cannabis for the people to approve, and should have clear guidelines for dispensaries and fully commercial grows. It should consider the regulation, and encouragement, of a cannabis industry in the county.
In a recent article we joked about "Alta Clara", a mountain grown cannabis label. If Sierra County had such a franchise, including a broker and a few hundred small growers (there are that many already) the county could establish itself in a nascent market.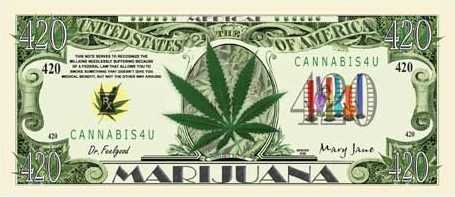 Colorado made over $2.2 million in taxes last year; Oakland is taxing cannabis as are Berkeley, Sacramento and Long Beach.
The greatest likelihood is that the Board will make the effort and no one will come. It's an industry which has to be wooed, at this point, like any other.