Planning Commission Meets and Heats
The Sierra County Planning Commission met in Sierraville this Thursday, 17 December, 2009. Cammack, Freschi, Eldred, Devore and Lovern were present.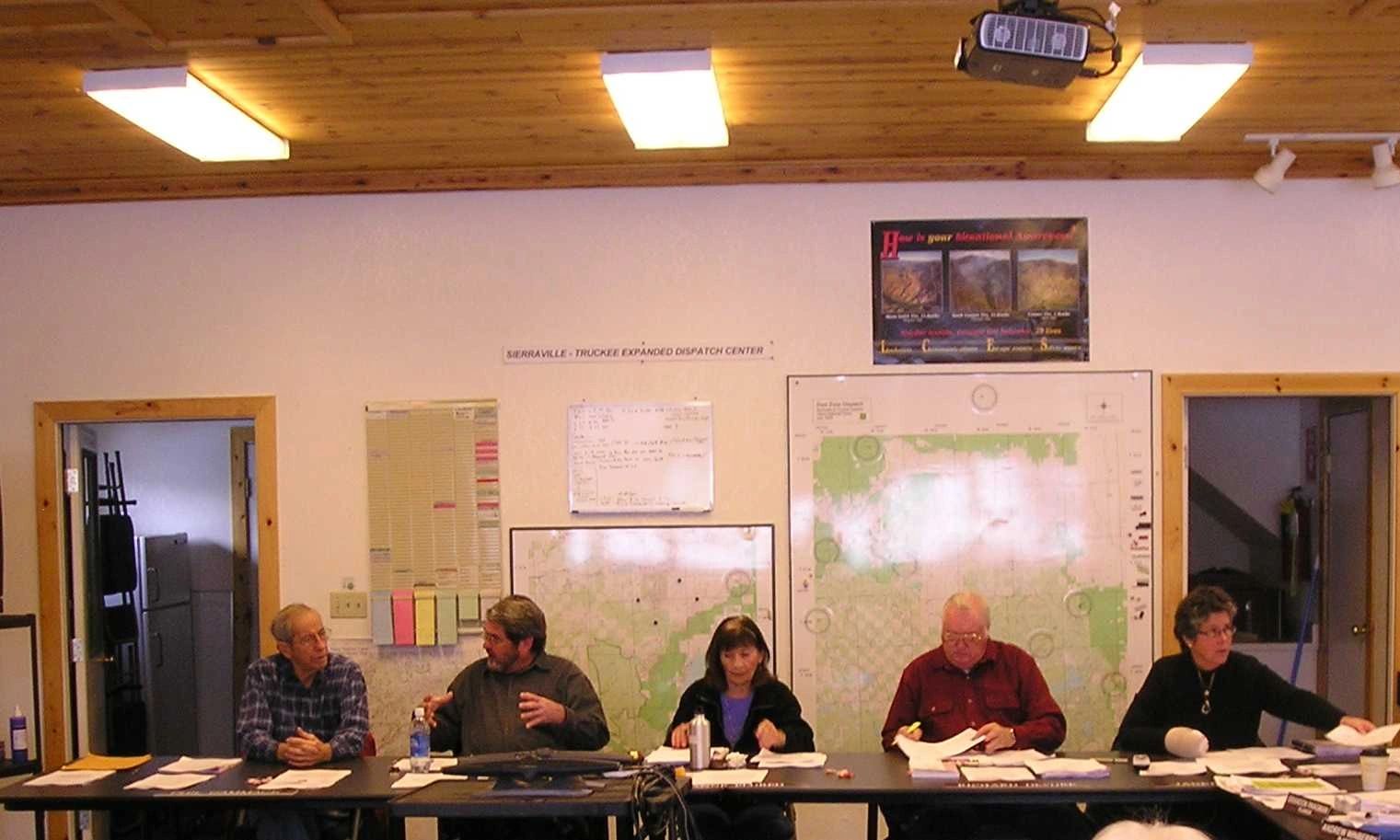 The Planning Commission often meets before a nearly empty room, with only a few loyal malcontents showing up to keep an eye and grouch a little, but this day people were scurrying for folding chairs.
PC Chair Anne Eldred dropped the gavel and took care of the usual business of approving minutes, but by and by they came to the first issue of public interest.
The need for a California Environmental Quality Act (CEQA) review before modifying in county code the definition of "high water line" was under discussion.
Director of Planning Tim Beals outlined the history of the definition, or lack of definition, in the code.




The County had used the most logical and readily available term for "high water line" which is essentially "the place where, in typical years, the water reaches the highest above the stream bed." This location varies a good bit from year to year, but a good technical description would be: the high water line can be described as "the highest point at which plastic bags, knots of fishing line and empty worm containers hang up in the willows."
That was pretty much the definition the planning department used from about 1973 to about 2006. At that time, the department decided to use "an abundance of caution", a bureaucratese term for "cover your butt and wrap it 'til it's water tight," and a new definition of "high water line" was sought. This one used the 100 year flood mark as the guide for the high water mark. The department began using that definition because a formation group of High Sierra Rural Alliance, composed of two ex-planning department staff members, wrote a letter complaining that the high water line definition was too vague.
The long and short of it, staff explained, is that it would require a variance to do anything in a house designated nearer than 100 feet from the "100 year flood plain". Planning Director Tim Beals provided a long but very partial list of things that would require a variance, and an "initial study" to accomplish; many of them are things the average homeowner does without County or HSRA interference; certainly without an "initial study."
Staff identified the communities effected: naturally the canyon towns are involved because nature has provided few building sites on the steep slopes. But Sierraville would be devastated by the "100 year flood" definition, and so would Sierra Brooks.
The podium was given to the public, and the Prospect reporter literally burned out a pen taking notes.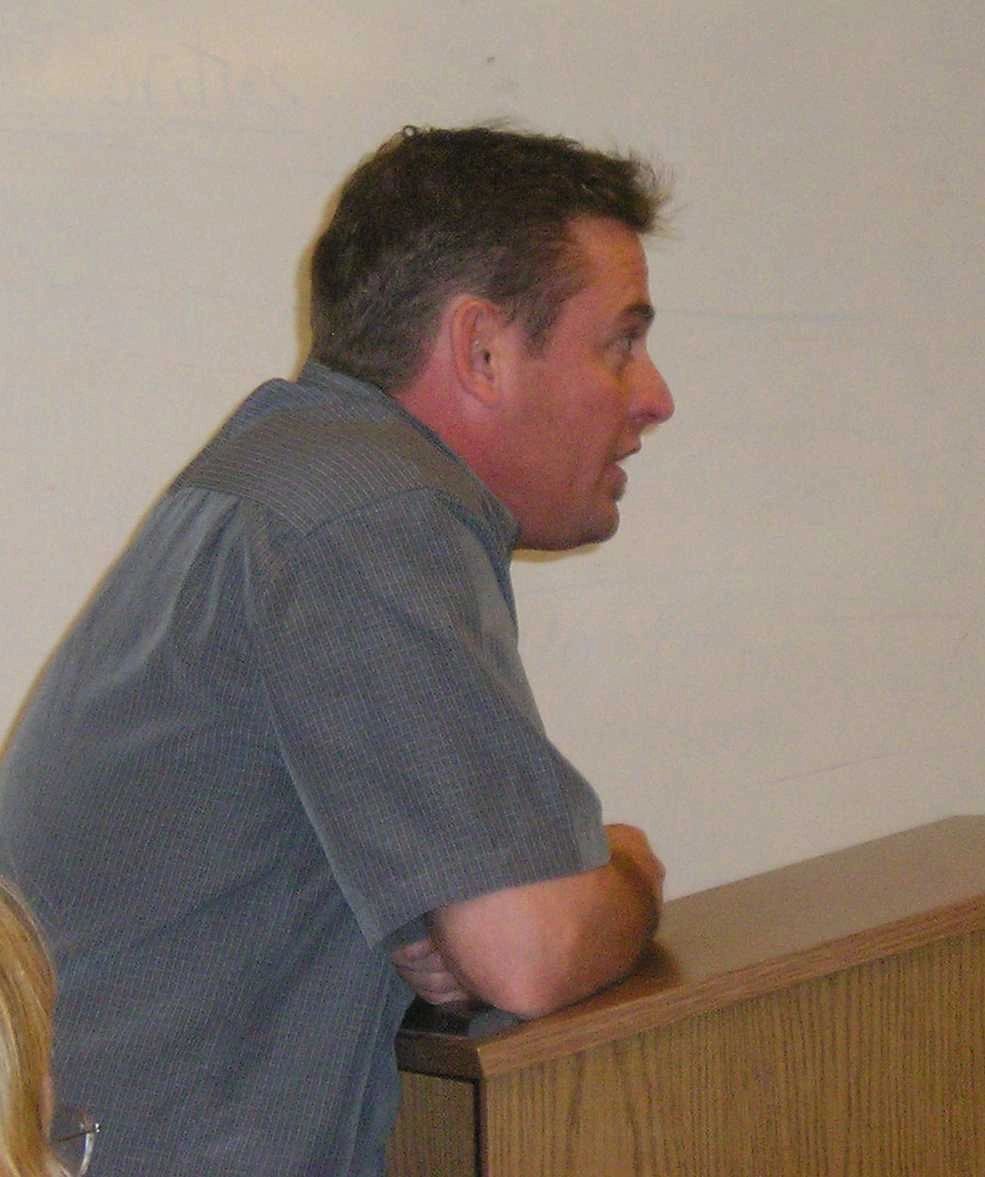 Milt Holstrom, local landowner and resident and a person known for taking the direct route said accepting a rational definition of "high water line" was a "no brainer." Mr. Holstrom is a founding member of a local organization which is forming to, among other longer term goals, provide relief to local people and government from the actions of High Sierra.
Next to take the stand was Mrs. Marjean Marciniac, local property owner with a long association with Sierra County.


Mrs. Marciniac spoke of her history with Sierra County, and that of her father, 90, a hale, white-haired gentleman who was present. Her father was a geologist and knew a bit about streams and high water lines. She stated she is not adverse to environmentalists and noted that she met her husband when they were members and workers in the Sierra Club. Her family has always considered itself to be stewards of the land. However, she felt that HSRA was a "special interest group" who attacks landowners. She asked the Planning Commission to help restore balance to the application of the law.



Frederick Gibson, a landowner and professional architect, spoke briefly about the difficulties brought about by unreasonable requirements of HSRA. He encouraged reason in the definition.
Heather Kenny from Aleshire and Wynder, attorneys at law spoke. Ms. Kenny looked every bit a hired gun, dressed in a long black coat. She smiled at the Planning Commission.



Ms Kenny said that Aleshire and Wynder are big deal attorneys, (indeed, they are, look at their website HERE)  and they generally represent local governments, and not private individuals. They were willing to make an exception in this instance. HSRA is using CEQA in a way it was never intended, she said. She spoke of the recent appeals, particularly the Hudson variance. She stated that the County Staff had been forced to spend countless unnecessary hours, an "absolute waste of resources." She denied the 100 year flood plain could be pulled from the subdivision code and jammed into this definition. This loss of resources by the county and by landowners to satisfy the caprice of a single group is not the way a county should work. Her trigger finger twitched perceptibly.

Well known local engineer, Dennis McCreary from DMac engineering told the Commission that he would appreciate a change in the code. He said that many properties are effected and the cost of the analysis was considerable. He implied that his professional work would be easier and the residents would benefit if a reasonable approach to "high water line" could be found.
High Sierra Rural Alliance did not send a representative, but they did do something that we've been told has become standard operating procedure for them. On the morning of the hearing, they sent a ton of crap to the County, to be taken into account at the hearing. The practice clearly intends to stultify the meeting by forcing staff to take more time, thereby dragging the procedure onward. It's unfair, unprofessional and unconscionably rude, and most of all, it betrays the principle of good faith negotiations.
However, HSRA maintains, in a letter found HERE, that the county first of all have a CEQA review before changing the ordinance, since the change might have an impact on the environment.
High Sierra wants the "high water mark" to essentially equal the "hundred year flood mark." They insist it would not prevent building, but would require a variance. Primarily they are asking for a definition that would require an "initial study" on anything done on houses within that definition of "high water line".
High Sierra's letter goes on to say:
A setback of any set distance from the ordinary high water mark does not ensure
wetlands and floodplains will be included. Evidence in the record supports the need to
protect the 100-year floodplain from encroachment where practicable to protect
environmental values.
HSRA contends that global climate change is taking place in the Sierras at seven times the rate of the rest of the world, and the evidence for this is an article in the Sierra Sun. Sierra County Prospect reviewed the article; it's a lay piece, and in no way provides anything beyond anecdotal evidence. It's a pleasant read, find it HERE

However, it is no secret that the woods are changing, and locals have noticed the change for a number of years. The Prospect agrees in principle that global climate change is taking place, agrees that the woods are drying out, agrees that the streams will be hit hard, likely having more frequent violent floods and severe droughts. But, there is no evidence that the building experience of 150 years will be invalidated, or that the environment will be substantially protected by requiring more paperwork. One could as easily argue that because of a warmer, drier climate smaller floods will be more frequent, but 100 year floods may disappear altogether. The problems of global warming are certainly local, but not that local. If climate change in the mountains is the primary concern of HSRA they should retire to Sacramento, to improve the air quality in the Central Valley, which periodically spills poisonous, greenhouse laden gases into the Sierras. Balancing global climate change on the backs of our residents is not good science, and neither is the Sun article, nor does it intend to be.
Finally, "wetlands," referred to in the HSRA quote above, are treated completely differently and are not actually impacted by this change.
HSRA also provided boiler plate studies on the importance of stream buffers, something County Staff and local groups who actually accomplish environmental work, such as the Sierra Valley Recourse Conservation District, already know.
By not appearing, but sending a stack of recyclable paper, HSRA required staff to explain their position for them.
Public comment was concluded, and Tim Beals asked that staff be allowed time to review the pile of murdered trees HSRA had dumped on them.
County Council Jim Curtis was present at the hearing. His participation was somewhat limited, however he gave what has to be considered a fine, lawyerly, "damned if you do, damned if you don't" talk. Sierra County land use ordinances would benefit legally from broad revision. However, our people are few, and we simply can't afford the cost of an Environmental Impact Review for such broad changes. Our codes are workable, and probably defendable, but there are weaknesses which could be exploited. Having worked in the Sierra County Planning Department, the antagonists (not his word) at HSRA are well familiar with the code's shortcomings. There are justifications within the law to allow local governments to make certain distinctions and carry on with procedures which are not clearly defined in codes. In the end, any selfish, self-serving misanthrope (not his words) can sue anyone for anything. There is no way to tell what the results of such a lawsuit could be.


Curtis emphasized that what the County seeks to do is to divine the "legislative intent" in each instance. He outlined the dangers of allowing the ordinance change, against the obvious and already stated dangers of doing nothing.
It then went to the Commission to make the decision. The public had demanded something be done to protect their property rights, and the county could be sued for not doing so. HSRA might well sue if they did do so. In the end, they had to ignore who might sue for what and try to fathom the intention of legislators who were distant in time and place and who individually voted according to industry influence, zeitgeist, illicit drug use and mental health issues.
In a nonce, they determined that the legislators had not intended for Sierra County to have no inhabitable places. The legislature didn't expect that it would be impossible to build a home and live in Sierra County, or that only the wealthy should be allowed to do so. Allowing logic to overpower experience, they decided that the legislature had intended that reasonable care be taken to protect the "environment" meaning the meadows and canyons we call home, but that unreasonable frittering was not required by that intent.
Mike Freschi cut to the chase and made the motion; the vote was unanimous in favor of the conclusion that changing the definition in the county code will not require a CEQA review.
The Planning Commission's determination that the change doesn't need CEQA review means the Board of Supervisors will now have an opportunity to hear on the proposed ordinance and perhaps gavel it into the code.
The Commission also discussed the Timber Production Zone question, in which portions of land are provided reduced property taxes in exchange for not cutting trees for awhile, and not converting forest land to development. This discussion is heated in other counties, where lawsuits have begun blooming. The Commission determined that they would form a citizen's committee and meet on the subject again.
Disclaimer: the reporter on this piece is not unbiased. He has been arrested at a forest demonstration and must be considered an environmentalist, but also owns a small piece of property in Sierra County and High Sierra Rural Alliance is a risk to any property owner. We hope the biases cancel each other.