033011
My Generation
Folderol from the Fringe

In the dark days of the Vietnam War, back in the early sixties, a small group of Baby Boomers went into a three day mescaline trance and made a deal with Satan: we would never become old and never become irrelevant.  We would always have the best drugs, the best jobs, the best cars.
At least that's how I remember it.  Imagine my shock, then, to find myself engaged the other day in a discussion of the merits of dried prunes over psyllium husk to encourage healthful poopage. 
I was waiting in line with some old boys my vintage or a little older, when the discussion turned potty.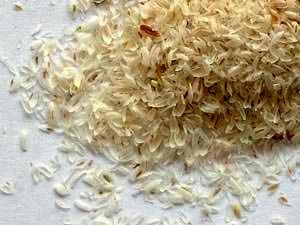 Psyllium Husk.  Be sure to drink plenty of water whatever fiber source you choose.
I paused in the discussion, dismayed at the turn of the conversation.  Hoping to steer us to a more exiting topic I noticed a sweet young thing in line ahead of us. 
"Hey," I nudged an old pal, "what do you think of that?"
He squinted and looked in her general direction.  "What?  Corned Beef still on sale?"
"No," I said, "the chicky." 
"Oh, jeez," he said, "I couldn't handle that."
"What, your woodie?  They got a pill for that now, to save old jousters like yourself from humility."
"No, my back.  There isn't enough ibuprofen in China to get me through a tumble with a young gal in great shape like that.  There's a reason I go to church bingo to get my dates.  I just don't have that much up and down left anymore."
"Well, you can't get up if you can't get down" I said, echoing a favorite mantra of the 60s "and you can't get down if you don't get up". 
My companion turned his good ear to me, "what?"
"I said you're too young to be dead in the pants."
"I ain't dead, I'm just tired.  At least I know it.  A young girl like that would leave you for dead."
"Hah!"  I scorned, adjusted my belt, but the young woman was wearing spandex bicycle gear and there were muscles everywhere I could see.  In my mind's eye I saw her tense every muscle in her body and me trying not to cry as the EMTs put my goods in a cast for awhile.
Some part of my Boomer self rose up in frustration.
"Hey," I whispered to my companion, "let's buy some weed tonight."
"Just come over, I got the pot letter from the doc on accounta glaucoma.  What I'd really like to get is a shot of steroids.  My hip is gimpy and it makes me list to port.  I have to make course corrections so I don't end up in the Yuba."
Frustrated, I cast my mind back to my supposedly endless youth.  What did we talk about?  I recalled a friend saying "I just got the new Hendrix Ultimate Experience album.  It's bitchin'"
"Hey," I say to my friend, "get any great new music lately?"
"Yeah, I got a new Jimi Hendrix CD, Ultimate Experience.  The greats never get old."
"Hendrix?"
"Yeah.  He'd be 68 this year."
"Yeah," I say, but in my heart of hearts I know it's over for our generation.  The Man didn't get us, the Establishment only got us because we need our meds and our Scooters. 
What the hell happened?  We made a deal, we were never supposed to get old.  Here we are hoping to score NSAIDs, listening to music no one listens to, fearful that a young woman in lycra will break something we need.
I sighed, "My Generation."
"Yeah," my friend laughed, "'hope I die before I get old.'"
"Too late," I say.
"Yeah."  He laughs, "dumb ass kids."
Yeah.

My Generation, the Who
People try to put us d-down (Talkin' 'bout my generation)
Just because we get around (Talkin' 'bout my generation)
Things they do look awful c-c-cold (Talkin' 'bout my generation)
I hope I die before I get old (Talkin' 'bout my generation)

This is my generation
This is my generation, baby

Why don't you all f-fade away (Talkin' 'bout my generation)
And don't try to dig what we all s-s-say (Talkin' 'bout my generation)
I'm not trying to cause a big s-s-sensation (Talkin' 'bout my generation)
I'm just talkin' 'bout my g-g-g-generation (Talkin' 'bout my generation)

This is my generation
This is my generation, baby

Why don't you all f-fade away (Talkin' 'bout my generation)
And don't try to d-dig what we all s-s-say (Talkin' 'bout my generation)
I'm not trying to cause a b-big s-s-sensation (Talkin' 'bout my generation)
I'm just talkin' 'bout my g-g-generation (Talkin' 'bout my generation)

This is my generation
This is my generation, baby

People try to put us d-down (Talkin' 'bout my generation)
Just because we g-g-get around (Talkin' 'bout my generation)
Things they do look awful c-c-cold (Talkin' 'bout my generation)
Yeah, I hope I die before I get old (Talkin' 'bout my generation)

This is my generation
This is my generation, baby