Photos!
120711
I loved the Thanksgiving dinner in Downieville. I thought you might like a few photos.
Phil M. Up
Downieville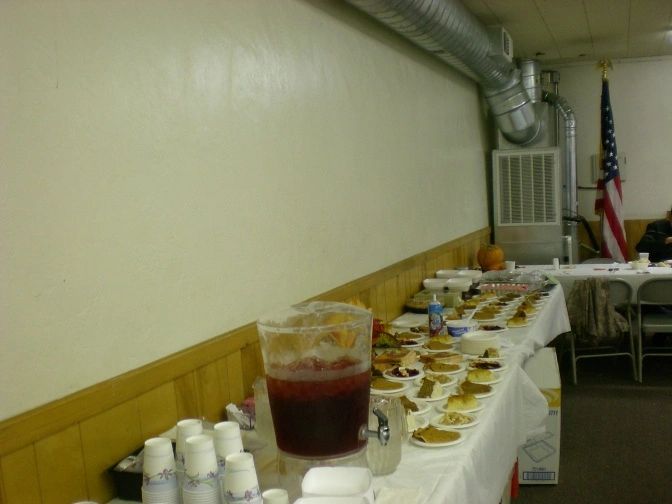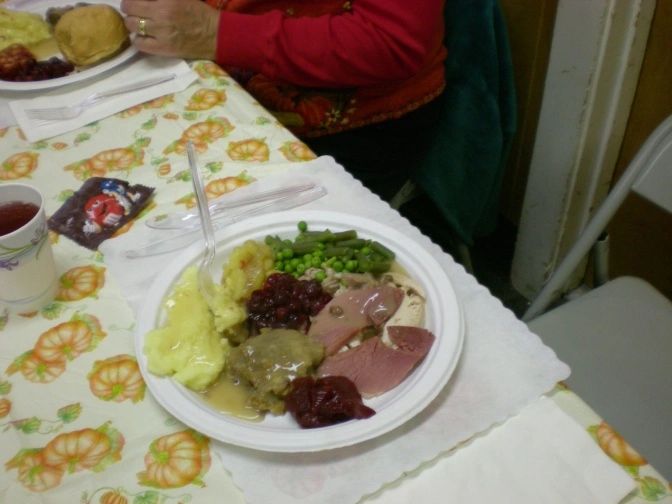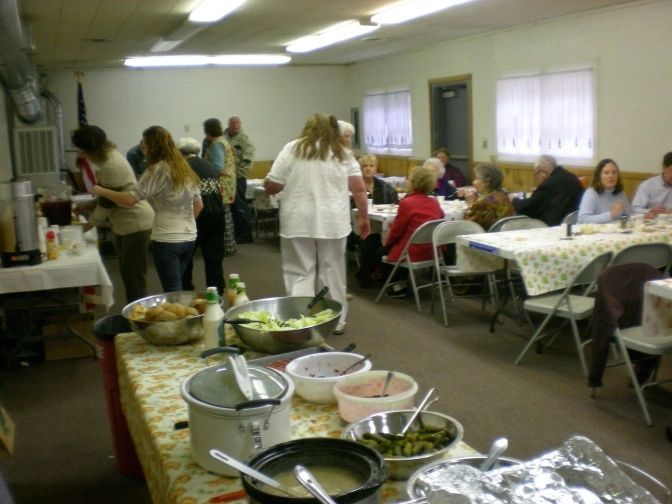 A Big Thank-you to Everyone Who Helped with the Miss Jody Dinner
November 28, 2011
Editor:
The Miss Jody Community Thanksgiving Dinner once again was a successful event. Thanks to the efforts of many volunteers the event was a joyous, happy occasion for those who came to dine and the volunteers who worked. We thank everyone who helped and the following are those we know, many who donated anonymously if I have inadvertently left out someone's please know we are so grateful for your help.
We especially acknowledge the efforts of Sheri Blackwell and Jim Nicholson of Indian Valley Outpost, Larry & Kathy Breed at the Sierra Country Store, Lodhi and Naseem at Downieville Motors, Tim Beals, Lee Adams, JoAn Cochran, Mary and Charles Ervin, Don and Mary Kay Potter, Liz and Mark Stevenson, the Dines family, Miriam, Tom, Hannah and Tara, Julie and Bobby Burington, Doris and Andy Carpenter, Don Russell of the Mountain Messenger, Jill Tahija and Randy Yager, Evalinda and Laurenc Devita of the sierracountyprospect.com, Cindy and Dennis McCreary of Sierra Hardware, Doug Peterman at Sierra Motors, Nancy and Mike Carnahan, Tom Schumann, Peter and Louise Heubner, Clancy, John Bryan, Fran and Joe Burgard, Cindy and Gunnar Ellsmore, Elsie Ostrom, Pastor Bernie and Patti Stringer, Downieville Assembly of God Church, Pastor Susan Kopp and the United Methodist Church. the Downieville Lions Club.
The dinner was wonderful thanks to the efforts of, Sheri's Indian Valley Stuffing, Gary Grutkowski, Anne Hutchison and David Hutchison, Tom and Susan Hopkins, Irmke Schoebel and Glenn Deibler, Lee Brown, Liz Fisher, Kathy Whitlow, Linda and Paul Guffin, Nancy and Mike Carnahan, John and Liz Luster, and other volunteers who I may have missed.
Some of the many donations were received from Gary and Lora Lee Grutkowski, Peter Huebner, Tom's Snowmobile Shop, Michael and Karen Galan, Patricia Lawrence, Barbara Seley, and many donations were left anonymously at the check stands at the stores in Sierra City and Downieville. Thank you all so very much.
Around $1,000 was received in donations. After paying expenses for the Miss Jody Dinner which served 80 including 16 home deliveries all remaining funds will be given to the Western Sierra Food Bank to use for providing food to those who need supplies and the Christmas Baskets delivered in time for Christmas meals.
Although this is a wonderful amount from this community, it does not begin to fill the need for year round food assistance. The Western Sierra Food Bank helps anyone who needs food. No prequalification needed. This year has been difficult for many families and the WSFB has been hit hard. We thank everyone for helping so much and we ask that those who can donate remember hunger happens all year long.
Happy Holidays to you and yours and once again, Thank You.
Downieville Lions Club
Gold Circuit United Methodist Church
Assembly of God Church