101310
Local Groups and Agencies Host Metropolitan Water District of Southern California
On October 6th local groups and agencies met with two representatives from the Metropolitan Water District, see their site
HERE
.
The purpose of the meeting, orchestrated by Tim Holabird of the Susanville office of Congressman Tom McClintock, was to explain to the representatives of the Metropolitan Water District where their water comes from, how it is stored and cleaned, and how the watersheds are best cared for.

From the
website
(link)
The representatives were Stephen N. Arakawa, Manager of the Bay-Delta Initiatives, Office of the general Manager, and Kevin Donhoff, Manager, Imported Supply Unit. The Metropolitan Water District supplies 19 million users in 26 member cites with water from the Colorado River and from the Sacramento-San Joaquin Delta. The Delta is where two of our four watersheds empty, the Yuba and the Middle Fork of the Feather.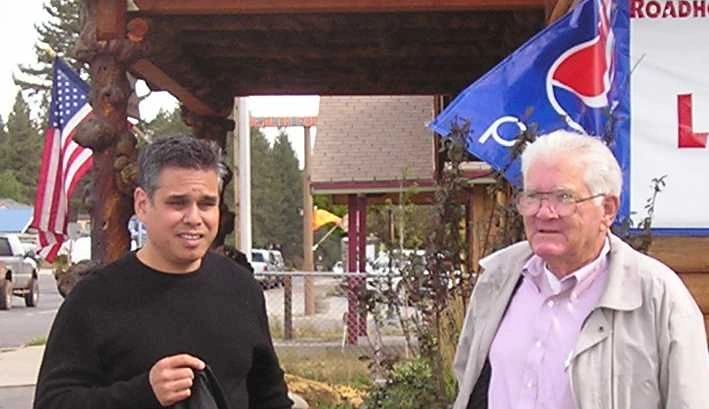 Stephen Arakawa and Tim Holabird, taking water very seriously.
The Metropolitan Water District is a huge agency, with 19 General Managers, Assistant Managers and Managers, and the Board of Directors is composed of representatives from the cities and water districts composing the MWD. It's a very big enchilada.
The Very Big Enchilada, MWD from their 2008/2009 report,
HERE
Several local agencies were represented at the meeting, included supervisors Bill Nunes from Sierra County, and Lori Simpson from Plumas County, supervisors from Lassen County, representatives of the Forest Service from three districts, the Quincy Library Group, Plumas Corp, the Department of Water Resources which operates the California Water Project that; most local agencies dealing with timber or water had a representative present.
The meeting was critical to local interests because it drove home two points which most of us know well here, but probably few people south of Bridgeport do. First, the mountains where we live capture, store and purify water for people "down below" to drink. Second, maintaining the forests and watersheds is difficult and expensive work, and end users should be helping to pay for it.
Presentations included a discussion by H-F Quincy Library Group founding father Bill Coates, who told of the original concept and the work the group had done. Alice Carlton, supervisor for the Plumas National Forest spoke of the dynamic balance that the water capture and storage system represents. Michael Jackson from QLG spoke of the number of trees now in the forest, and the impact that has on the health of the watershed, and the amount of water that reaches the Delta. He also spoke of the natural water holding capability of a healthy watershed, and of the disconnect between the people who manage the watersheds and those who harvest and sell the water, down below, meaning, to a significant extent, Metro Water.
After a meeting and lunch hosted by Tom McClintock's office and the City of Portola, the group toured some local hills to see the effect of properly caring for the watershed.
It is hoped that this trip will raise the awareness of people at the Metro, and hopefully they'll invest in our watersheds.