Sierra County Prospect: Rude to tourists; biased against our Urbanista brothers and sisters? 081510
Civic leaders ask: what have you got against touro dollars? What have you got against hybrid vehicles? What have you got against lycra bib-shorts?
Sierra County Prospect, fastest growing media source in the world (of Sierra County), stands accused of discouraging people from Elsewhere from visiting Sierra County.
It is generally assumed that the curmudgeon behind these remarks is the Fringe Editor, since the Dissenting Editor, Liz Fisher, loves all people and all animals.
Community leaders are upset because the towns and businesses in Sierra County love visitors. Not only do they bring in money, they bring smiles. The little towns along 49 come alive when people travel through; many events are scheduled for the summer months so people from everywhere can enjoy them. People enjoy highway 49, the Lakes, and the Sierra Valley; they bring noise and fun to our communities.
The Prospect, it is alleged, has groused about visiting drivers, many of whom are unfamiliar with winding mountain roads, are driving vehicles with loads on the roof raising the center of gravity, have their loved ones in the vehicle, and want to arrive safely at their destinations. Officially, law enforcement in Sierra County encourages safe driving.
All this safety is too much for the Fringe Editor, who pilots the decrepit Prospect van over the mountain like an F-15, tatters of paint flapping wildly, taking the corners on two wheels because "using only half your tires makes up for what you spend on gas."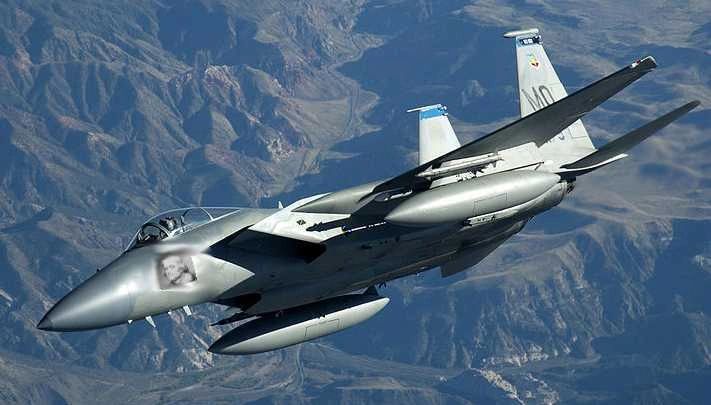 Unfriendly to visiting drivers? The F-15 Eagle, U.S. Air Force photo by Master Sgt. Kevin J. Gruenwald fropm Wiki
Likewise, the FE has made disparaging remarks about the many bicyclists who come to challenge the Sierra. He's been overheard talking about "neon colored deer that never jump off the road" and "lemmings in lycra bib-shorts". However, a source close to the lunatic himself has a different take on it. "I know this guy, and I know the problem. It's coming up on the cyclists, those brightly colored hams pumping, pumping; he's trapped behind them up the two lane, double-yellow grade, forcing him to ask himself, 'is that a man or a woman? Please God make it a woman…' I think he has sexual preference issues he'd rather not deal with."
The Fringe has been known to complain that visitors don't buy locally, they bring everything with them from Costco. "At least that's what I do when I travel," he says.
Yet, a casual stroll through Downieville or Sierra City or Sierraville shows something different: visitors parked along the road, sitting in local taverns, buying from local grocery stores and even procuring fishing equipment from local hardware stores.
Downieville and Sierra City, in particular, are tourist towns. Their Gold Rush history still lives, the waters plunging down the canyon are remarkably pure. Business owners hibernate in the winter, waiting for summer to again hear the clomp of customer's boots on century old wooden floors.
We took a camera and went to the towns in the canyon to see if there were visitors, and if so, were they happy?
First we visited the quintessential gold town, Downieville. It lives its history every day.
Main Street, Downieville. What's your pleasure, gold, grub or gewgaws?
The parking lot by the Gallows was full.
Small shops were serving folks, including 49er Wines.
This gentleman is Will Clark, the man to see for fine wines. He's sure happy!
This is the place to go when you first hit Dowieville, the Information Center. It's near the river, next to the Gallows.
Which is here, next to the bridge.
Downieville Grocery; the Pick and Shovel inside serves burgers and sandwiches.
A cheerful group inside the store.
There's the Yuba river, from the bridge.
Good eats at the Grubstake.
Need fishing gear or other durables? Here's the spot.
Got a hankering to bend your elbow? Go to the Saint.
OK, show us some lycra!
Up Canyon a little from D'ville is Sierra City.
Like Downieville, Sierra City has a rich history, and people live everyday in historic homes.
The Red Moose
The Old Sierra City Hotel
Get your beans and bacon at the Country Store.
Downtown Sierra City. Traffic is a little heavier than usual.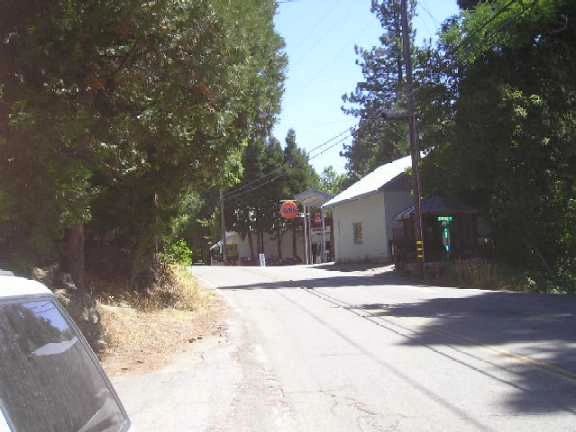 Both Downieville and Sierra City have gas stations.
So does Bassetts Station, at the gateway to Gold Lake. Food, gas, possibles and information.
These are the places of the Canyon, and they agree, Visitors, Yes! Grouchy Fringe Editor, Not So Much!
If you'd like to recommend your favorite Sierra County place go
here
.
Is there a Sierra County Business you'd like to see on this page? Send a photo and description to
meditor@sierracountyprospect.com
.