Ludi Hinrichs comes to Downieville and Loyalton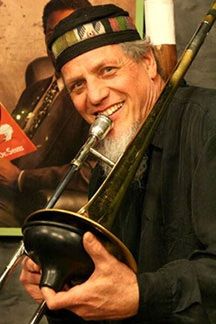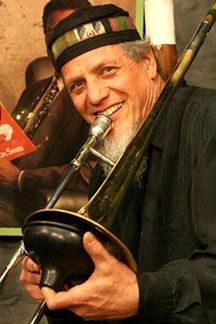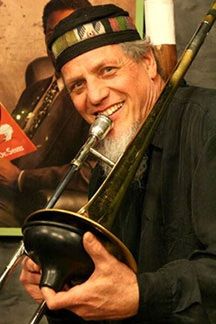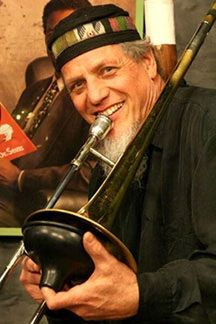 The students of Downieville and Loyalton Schools are in for a musical treat as Ludi Hinrichs comes to Sierra County and performs in two special one-hour assemblies. Ludi will take to the stage of the Yuba Theatre on Friday, March 23 at 9:45AM. Later that same day, at 2:00PM, Ludi will perform in the Loyalton Elementary Multi-Purpose Room. The entire community is also invited to these programs that include instruments and music from around the world.
Ludi's life has been filled with music. Born into a musical family, and named after Ludwig Van Beethoven, Ludi(Ludwig)started playing trombone professionally when he was sixteen years old. He was trained by principal trombonist Bernard Schneider of the St. Louis Symphony, and was a scholarship student at Berklee College in Boston. Ludi has 38 years of experience as a professional musician, composer and educator. Ludi has also recently studied Raga with Terry Riley. He has performed with Dijeridoo master Steven Kent, jazz chanteuse Yve Evans, and juggling wizards the Flying Karamozov Brothers. His journeys have been to Egypt, Bali, and Greece, and he recently returned from a performance in Japan with poet Gary Snyder. He has backed Chuck Berry and Mel Torme.
Ludi delights audiences with his range of instrumentation and styles and tickles them with his personality. He is most often identified with the trombone, but he is also an accomplished pianist,
a vocalist and plays the didjeridu, among other musical devices. His performances reveal a wide array of experiences— matched by a keen improviser's ear and a commitment to his craft. From Nevada City clubs and galleries to concert halls in foreign lands, Ludi is always full of surprises.
This program is presented by the Sierra County Arts Council the State-Local Partner with the California Arts Council.