021512
Lion's Club 75th Annual Student Speakers Contest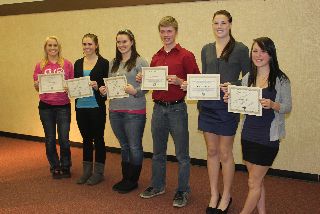 Photo: L to R
Hannah Ford, Jessica Baiker Fiona Baiker, Bryan Bosworth, Kylie Marshall, Savannah Burr
Six Downieville High School students entered the The Lion's Club 75th Annual Student Speakers Contest. The topic was,"What Could the America of Yesterday Teach the America of Tomorrow?" This year's winner, Bryan Bosworth, will compete at the Zone Level on March 4th, 2012 in Nevada City. The Downieville Lion's Club thanks all who attended and helped with this worthy project.
082411
Honored Guest
The District 4-C5 Governor of the International Lions Club, James
Fong, honored Downieville Lions Club with an official visit on August
22. During his visit the DG welcomed two new members into the club,
Mary Ervin of Sierra City and Julie Noll of Downieville by officially
inducting them into the club.
District Governor James Fong is presented with a
signed photograph of Big Springs Falls by Darby Hayes
as a tribute to his visit to Sierra County.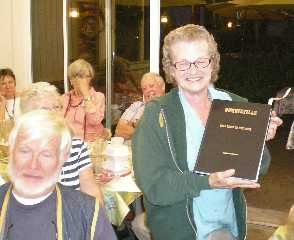 Janet Brandon of Downieville attended the Downieville
Lions Club as a guest of her husband Director Paul Brandon
and was surprised and pleased to win the raffle, a copy of
the historical book "Downieville" by James Sinnott.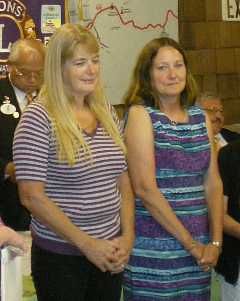 Julie Noll and Mary Ervin are inducted
into the Downieville Lions Club by District
Governor James Fong.

121910
Downieville Lions Club tag for kids donation

Here is Downieville Lions Club President Bernie Stringer accepting a very generous donation of four Santa Claus-sized bags of toys from Brian Jamison and The Devil's Mountain Brigade. The gift's were collected at the Brigade's Annual Christmas Party held recently in Nevada City.
THE LIONS SEND OUT A THANK YOU ROAR:
The Downieville Lions Club would like to thank all those who made a donation and picked up a "tag for kids" for our annual Christmas toy drive. We would also like to thank the Downie Chapter 1849 of E. Clampus Vitas for their sizeable cash donation to our cause. We are truly blessed by the generosity of our community! Merry Christmas to all.
102710
Lions at the Pick and Shovel
Randy Witt, Grass Valley Host Lions and current Zone
Chairman makes a presentation at the Downieville
Lions Club held at the Pick & Shovel Eatery in Downieville.
He requested Downieville assistance in some of their
projects.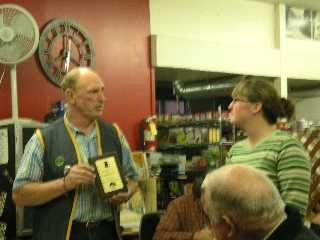 Rachel Guffin receives the ABDUL award from Lion
President Bernie Stringer. The award is for Rachel's
work in founding and running the ARF (Animal Rescue
Fund) helping provide food and medical care for needy
animals in Sierra County. ABDUL was a black labrador
known for his rescue work.
101710
Lions at Sierra City Oktoberfest-- A Great Meal Was Had By All!
photos from Michelle Anderson
Peter Huebner and Michelle Anderson
Karen Galan (yellow vest) Peter Huebner (checks) and Michelle Anderson (in hat)
Ross Gordon and Mike Galan
Ross Gordon
092910
Lions Honor Animal Relief Fund
photos and story by Liz Fisher
Rachel Guffin, CEO and Founder of ARF, and her mother Linda Guffin,
spoke to the Downieville LIons Club about the activities of the Animal
Rescue Fund and its future.
ARF has been active just over a year and provides financial assistance
for food and medical treatment for pets. In addition Rachel often
finds herself transporting animals to new homes or to a pet rescue
organization. There are sad stories but also many happy results in
saving a pets life when the alternatives were bad news.
Rachel hopes to establish ARF as a non-profit organization in the near
future and to expand and bring services to the Sierra Valley side of
Sierra County.
Sheriff John Evans praised Rachels efforts and mentioned that Animal
Control and Community Services Officer Brian Leap would be willing to
work with Rachel on projects and pointed out that the Truckee Animal
Shelter that Sierra County contracts with is a non-kill shelter.
Rachel was honored for her work by the DLC with a plaque of
Appreciation and a $100 donation to ARF.
Linda Guffin talks, Rachel listens and Don Russell looks cute...
092010
Lions Club hears from Measure C Supporters
photos and story by Liz Fisher
Stan listens to Jim
Downieville Lions Club invited Superintendent of Schools Stan Hardeman
and Downieville Principle James Berardi to talk about Measure C on the
ballot this November. The 5 million dollar bond measure will be used
for school facilities only, not salaries. A list of items the funds
will be used for include: repair and replace leaky roofing; upgrade
and replace hazardous electrical systems and wiring; modernize and
restore restrooms; provide heating, cooling and ventilation; repair
broken and replace broken and inefficient windows; restore and replace
plumbing and heating systems, provide hot water; correct destructive
drainage systems; modernize classroom furniture and equipment; ensure
outdoor safety lighting and alarms; and renovate, construct and equip
Science Labs for students.
Lions listen
The duo made it clear this is their last option, the school district
has investigated all sources. The schools often do not qualify for
financial programs due to a small rural population and high test
scores. State or federal government cannot be counted on to meet the
needs. If the measure fails federal and state law require schools to
provide clean, sound and safe facilities, by law the district must
comply with making repairs. The money will have to come from the
school district's general fund which would result in the loss of jobs
for teachers, staff and community members and severe program cuts.
However if the Bond passes the District will be able to apply for
matching funds at no district cost and this will allow the district to
address significant needs of the facilities and students.
Sheriff John listens too
Both Hardeman and Berardi encouraged the community to get involved
with Friends of Sierra Plumas Schools, P.O. Box 277, Loyalton, CA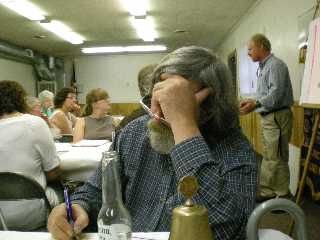 Russell falls asleep
090510
Downieville Lions Club Shatters Glass Ceiling
Bulanti Reporting
Dateline: Downieville
The Downieville Lions Club thanks all of you for your support during our hamburger booth fundraiser held Saturday, September 4th. Proceeds of our efforts directly support community activities ranging from High School scholarships and basketball programs to eyesight examinations and the food bank. Without your support we could not offer much needed financial assistance.
This event also marked the shattering of the glass ceiling when Michelle "make mine rare" Anderson volunteered (and was allowed) to be one of the BBQ chefs. This was the first time the Downieville Lions Club has had a female BBQ chef. Under the guidance of Master Grillers Mike Galan and Jim Johnston, Michelle performed like a champ. We would also like to thank Lions Lou and Nancy Phillippi, Greg Bulanti and Ross Gordon. A special thank you to Cindy McCreary for the use of the parking lot. Watch for Michelle to be grilling at our next BBQ event!