Is Loyalton DEAD?
A brutally honest consideration of the county's only city.

As most everyone knows, Loyalton, on the southeast edge of the Sierra Valley, is a mill town. Though the little town was important in feeding the cities of the Comstock, it was a flyspeck until the mill as made it big.
Timber in the area began in earnest after the Comstock consumed the pinion forests of Nevada for fuel and timbers for the mines. The Lewis Brothers were logging near Loyalton in the 1880s; they bought up farm land around Loyalton. Loggers and mill workers in those days knew how to party, and drunkenness had been a problem in other area mills. The Brothers expanded the town to nearly 50 square miles and made it dry.

Today, Loyalton is about a third of a square mile. The population of the town is about 775 souls, and appears to be in a continual decline. For at least twenty years people have been asking, Is Loyalton Dead?
The question isn't popular in the little town. Very few people live in Loyalton by accident; most people who live there love the town, and for good reason. Still, it's a question some people ask themselves, and a subject they consider instead of sleep.
It should be a concern to everyone in the county, and clearly it is.
Who's job is it?
Loyalton is at the junction of four supervisor's districts, thanks to a tangle of boundaries that do justice to the idea of the pattern left when someone about to put toothpaste on the brush is suddenly goosed. This comfortably makes the town an issue for most supervisors. Still, there isn't much anyone can do, Loyalton is the largest town, the only city, the center of the county's industrial zone and should be the economic powerhouse of the county.

Loyalton still employs most non-governmental workers, and harbors within its sphere of influence about a third the county's population. Part of Loyalton's poor prognosis is the fact that it doesn't amount to much to be the economic powerhouse in a tiny, sparsely populated, poverty stricken county. By those standards, Loyalton represents the county.
Here are the data for the county, and for Loyalton:

Sierra County

Loyalton

California

Population 2000

3550

862

Population 2008

3,263

777

Change %

-8

-9.8

8.5

Median Age

44 years

39 years

33.6 years

Median Income

$44,950

$39,750

$59,928

The data was assembled from several sources; data for the City of Loyalton is of poor quality. Figures represent values based on approximation using several sources

Figures for both the county and Loyalton tend to be easily distorted because of "small sample error" and other errors in measurement, but still figures show the area has a lower income and higher median age than the state.
But, these figures hardly mean Loyalton is dead; it's merely old and broke.
How Would We Know if Loyalton were Dead?
If no one lived in Loyalton, if there were no businesses, we could easily pronounce the city dead. But, if Loyalton is dead, it has a pretty lively corpse.
A brief review of the storefront businesses in Loyalton shows some doing well, and some clutching their chests. Even so, the town boasts:
a hotel, bar and dining room
a bakery that draws clients from Reno
a hardware/home center that rivals Home Depot in a fifth the space
a full service gas station
a news source that has been the cultural repository for three generations
a full service grocery store (see sidebar)
an auto parts store
a massage therapist
a full service pharmacy
an architect
numerous contractors
a dentist
a medical clinic
a thriving local chamber of commerce
schools and a nice park
 

There are a few vacant storefronts; probably fewer per capita than Truckee, which has been hard hit by the current recession. See HERE.  Indeed, very few small towns have done well during this recession, as rural areas are often hit hardest by economic downturns. Further, Loyalton's well being has always been tied to the lumber mill, which is not making boards since no one is building houses. These problems are not restricted to Loyalton.
If there were any measure which should alarm those who love Loyalton, it isn't the low wages or struggling businesses, it's the average age. Children are a community's future, and a good indicator of its vitality. Loyalton, and the county, need children.

Problems
Loyalton's poor health and older than average population, are related to being "far from anywhere." Loyalton traditionally provides workers to Reno, Portola, Truckee and Susanville/Herlong, but as gas prices rise and the unemployment rates of those places rise, local workers are discouraged from the commute. Commuters bring money in from outside.

When the primary means of economic growth was resource extraction, the town did well. Many Loyalton residents remember when men were in the woods and in the mill, and trucks powered logs in and lumber out of the mill. Turning trees to lumber and selling it brought money in from outside. That really isn't likely to happen again, at least not at the scale it once did.

Given the distance from other population centers, the lack of a resource market to exploit, and no high tech infrastructure, it isn't reasonable to expect Loyalton to do better than other small, rural towns.

Though Loyaltonians love the view, it isn't really ever going to have the charm that Sierra City, Sierraville or Downieville have. Those communities are surrounded by green, near major recreation, and they aren't doing that well either. The idea of Loyalton as a major draw for a golf course is so funny it's sad. Optimism is one thing, but market research is another.

There isn't a large, unemployed but technically trained workforce to draw wage slave jobs for high tech industries.





Cheaper somewhere else?

We did some light comparison shopping at Leonards, SaveMor in Quincy and Winco in Reno. We bought items on sale when possible

Not surprisingly, some items like milk are cheaper in a big city. But for the things we normally buy, we found that Leonards was very competitive on fresh fruit, vegetables, fruit juice, potatoes, and ice cream. The very best deal? Fresh peaches at Leonard's.


Solutions
Loyalton needs to bring money in from outside, the goal of every small town. There is no shortage of hair brained schemes to make Loyalton grow; none this editor has heard have any real market research behind them and most are simply based on wishful thinking. The Industrial Park in Loyalton was a gleaming hope gone rusty; that isn't to say it will never bear fruit. The old hotel building continues to haunt main street, and there aren't many likely candidates to fill it. That doesn't mean it will never flourish, but for light industry to flourish in Loyalton, it has to once again flourish in California. That's a long way down the road. In the meantime, all Loyalton investors and County supervisors can do is wait.

Grit
In discussion with a savvy local the other day the subject of the recession and its ravages on the county came up. This person give the opinion that "we're better off than a lot of places because we're used to poverty." It was a wry remark, but also very astute. There is something to be said for grit, and Loyalton has grit, under its fingernails, on its boots, and it its bones. That grit, and the imbedded knowledge of how to live in the area, will profit the community more than big spenders from outside the area.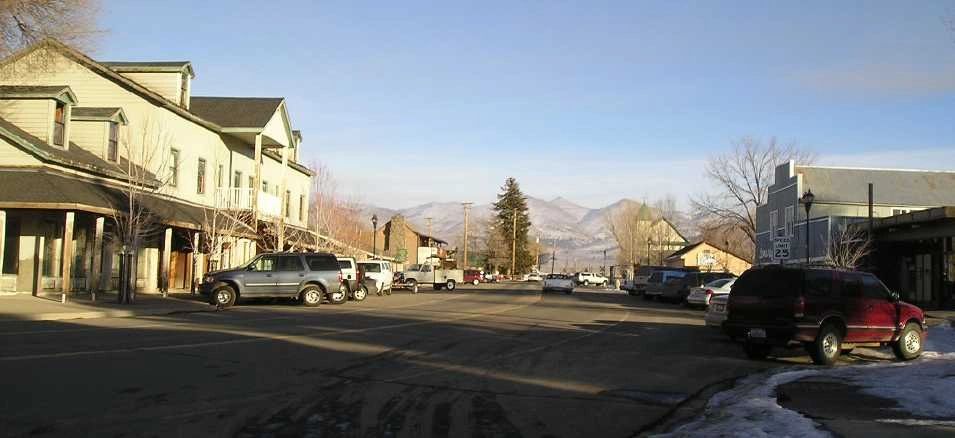 Optimism: Elected County Officials
District 4 County Supervisor Dave Goicoechia is steadfastly optimistic about Loyalton's future. "There's reason to be optimistic about the Co-Gen plant. It's too valuable to close. As California increases regulation on air and water resources, existing sites are worth more. I'm confident the Co-Gen plant will remain an important employer. Also, we're surrounded by surplus burnable material. People will realize that's more valuable to send through the Co-Gen plant than wildfire. I think that very different groups can come together on this. Our foundation resource is agriculture, and it's doing well. Those lands that produced in 1858 are still producing well. We can look forward to more upscale agriculture such as organic and grass fed beef, and 'farmer's market' crops. The Sierra Valley is doing well and will continue to do well as long as people recognize the importance of agriculture." Goicoechea went on to say: "Besides, Loyalton has the best bakery in Northern California, and maybe even the whole state, but I'm not going down south to be sure."
District 2 County Supervisor Peter Huebner is also optimistic. "Is Loyalton Dead? Absolutely not!" He has been working with the county Economic Development Committee to look for capital investment for the area, particularly the Industrial park. He has been securing funds to support the Co-Gen plant. Peter is putting together a committee to try to get a bank back in Loyalton. "When you drive through Loyalton, it looks like it is going through a hard time, but every little town is right now. If we can get some funding we can send more biomass to the Co-Gen plant, it is likely they will hire more people. That's what we need. There are wonderful businesses in Loyalton, like Blue Moon that brings people even from Reno. There is the workforce development, which we've been working on. Loyalton is doing fine, look at the clean up we had. There are all these things which are happening in Loyalton which are possible. No, don't say Loyalton is dying."
District 3 Supervisor Bill Nunes is quoted as saying: "I have great hope for the East Sierra Valley Chamber of Commerce, and the optimism and activity they bring." The EAVCC was represented at a recent Board of Supervisor's meeting by Barbara Jaquez, who outlined an optimistic future for Loyalton and the Sierra Valley.
 Pat Whitley, Supervisor District 5 has long been a Loyalton supporter. "No, Loyalton isn't dead, but everybody's got to work together to use the facilities we have. We also have some of the best tourists draws anywhere. Bird watchers come from all over, the Valley is world renown. We can work to develop things like that. Things are hard everywhere right now, but Loyalton is far from dead."