The Great Yuba Pass Chili Cook Off (yum.)
By Gabby Fringette
All that chili! It was delicious. On Saturday the third, I attended the 18th Annual Great Yuba Pass Chili Cook Off. I went around, took pictures, got info, and yes, ate chili. Perhaps too much.
There was "never the same five times" chili from Dave Night,
tasty Brentwood Bomb from Carolyn Delbo
,
'U be the Judge' chili by Ashley Greenhrood, sorry if I missed the spelling there, I honestly spilled chili on my notes.
I enjoyed the TNTs chili by Tony Wing. There was the Red Moose Inn, by Margret and Bill price, the Viva Le Puerco chili by Bob Morales.
And, the spicy chili of the cook of, High voltage chili by Caleb Bowman.
And moving on to the second page of notes, we have Pap's Blue Ribbon chili, by Jason Christian, and Salmon Lakes Finest by Sidonie Christian (candidate for Judge).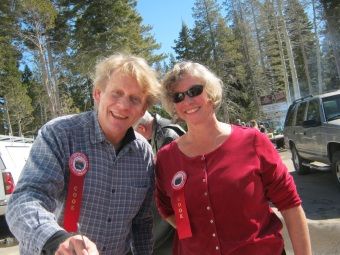 And then we have a favorite of mine (they had donuts) Clamper chili by Mark Stuart.

And another very tasty one, (it had bacon and cheese) Widder chili! By Kim Sharp


And another tasty one (this one was just tasty for the sake of yummy) Chili del Mar by Caree Loving (it was actually clam chowder)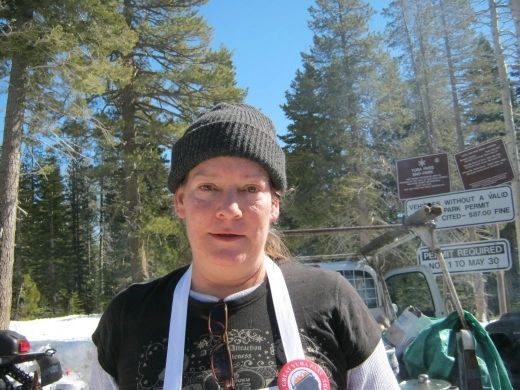 And Jim's great chili (it actuly was great) by Jim Shermerhorn.

And here is

Chuck Henson's L Town Green.

And Jeff Toraason's Fungi con carne.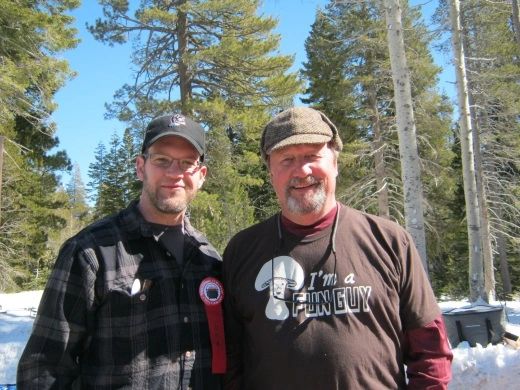 And the tasty (ok, he had creme soda) Habanero Chili delight by Danny Henson.
And the Made in the USA chili by Reid Bracher.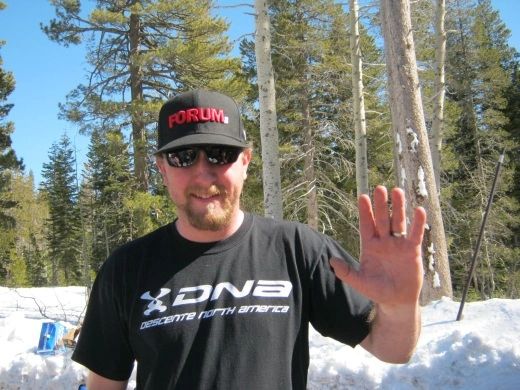 A mess of chili, by Don Russel.
The True Face of Chili.

Almost every one asked if I was a judge (I have to find out how to get on the committee) but, I wasn't. but here are the real judges: Sandy Kendall, Becky NLN (no last name), Terry 'the Trash Man', Barbra Toraason, Liz Henson, Sarah Beacher, Ron Strong.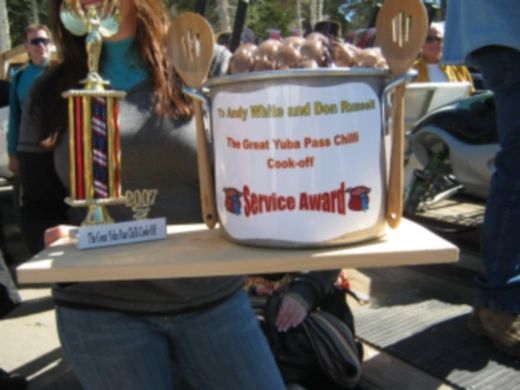 There was a special joint trophy for Don Russell and Andy White, for their 18 or so years of dedication. Andy wasn't there, so Don Russell took it for both.
And what are the judges for (other than getting bribes)? Deciding the winners! Here are the winners:

1. Widder's chili
2. Made in the USA
3. A Mess of Chili
4. L Town Green
5. Clamper Chili

6. Paps Blue Ribbon Chili.
People's choice: Chili Delmar!

I thought all the chilis were pretty good.
Maybe we'll see you next year at the Annual Yuba Pass Chili Cook Off.