USFS meets with locals … like in Finally…
LF   052310
A three man USFS contingent met with County Supervisors, Lee Adams, District 1 and Peter Huebner District and a few local people.
Sitting at the dais were Supervisor Lee Adams, Supervisor Peter Huebner, Tim Beals, Tim Holaberg, Will Clark, Yuba Ranger District Ranger Genice Froehlilich, Sierraville District Ranger Quentin Youngblood, Joe Chavez and Tahoe Forest Supervisor Tom Quinn.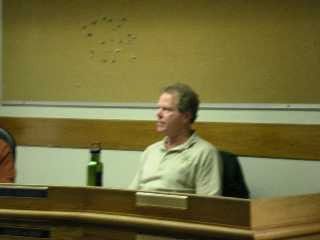 Tom Quinn
The old issue of the USFS leaving Downieville in 1981 again resurfaced going over the lack of communication between USFS personnel and residents and officials of Sierra County. In the old days it was called the Downieville Ranger District, then morphed into North Yuba Ranger District and recently the Yuba River Ranger District, none of the changes had been discussed with local county officials according to Supervisor Lee Adams.
Tom Quinn continued to profess the reasons were financial, the FS had to save money and cutback. The only commitment made clearly by Quinn was the assurance of maintaining an engine and fire crew in Downieville during fire season summer months.
According to Quinn, money, staffing, resources are a continuing problem at the USFS and the workload exceeds the ability of current staffing.
Quinn also acknowledged a discussion of why legal advertising and information regarding USFS activities affecting the local residents and economy haven't been published in local news media as something that should have been done and will be used in the future.

Another discussion ensued about law enforcement and interaction between FS Law Enforcement and the Sheriff's office.
Most of the stuff discussed was the ongoing differences of opinion between USFS and local government.
The new Yuba River District Ranger Genice Froehlilch spoke, suggesting she would not be able to change anything about the past, she was not Jeannie and she would be acting as herself.
Tom Quinn talked about the issue of marijuana gardens, "now known as marijuana grows" being a danger to the forest because of chemicals, sanitary conditions, and public safety. There are also many small operations in the Tahoe Forest.
Tim Holaberg alleged the Mexican drug cartels had found our area and were a major problem in the Tahoe. The reasons why they found the Tahoe more hospitable than the warmer climate in Mexico were not discussed.
Tim Beals asked again for a commitment from the FS to support the local economy and asked for a commitment to work with local government. Quinn reiterated the only commitment he could make was an Engine and crew in Downieville for fire season.
Lee Adams pointed out how important having the presence of the USFS in the communities was, saying, "well compensated federal employees working and living in the community year round is the best case." Lee Adams pointed out since 1981, the cost of the lease for the north Yuba Ranger station has been over 2 million dollars and yet the FS still owns the property in Downieville.
Tim Beals said the present course of USFS activity is not consistent with the history of them being a part of the community and having daily positive interaction with local folks and county government, suggesting possibly the county could maybe help with the funding constraints the USFS was experiencing.
Quinn replied, they "would figure out, if possible, how to increase our presence in the community." He went into a description of a ski area near Tucson, that had a full time USFS "Mountain Manager" with a duty station on the mountain, and although they could not require a person to live here, he "is thinking about pursuing the idea", possibly with a new employee, Joe Cook, who has a law degree, an unusual background for USFS personnel according to Tom Quinn.
Wayne from Yuba River Expeditions said he understood the USFS has a "lot on it's plate, but there is a big disconnect with the FS and community." Adding, "there is no dialogue, no explanation of how decisions are arrived at and communication might make things easier".

Genice Froehlilch then chimed in saying, "it appears there is a lot of bad blood and history in the past, and I can't do anything about that". However, she continued, "I will make a commitment to you to increase communication with the major players."
The third FS (I didn't get his name) said he had given only two shuttle permits for bicycle companies and they are both local, and he will not be issuing any more as the Tahoe is at capacity for forest use. He mentioned rafting permits and the subject of sanitation and porta pottys was discussed briefly.
They all sang Kumba yah and smoked a peacepipe of locally grown herbs and then went their separate ways.