Difficult Choice: Christian Kennelly Race 031412
Fringe Observation
It isn't often the voters are torn between two great candidates. Turns out the "lessor of the evils" decisions in politics are easier than choosing between people, both of whom are keepers.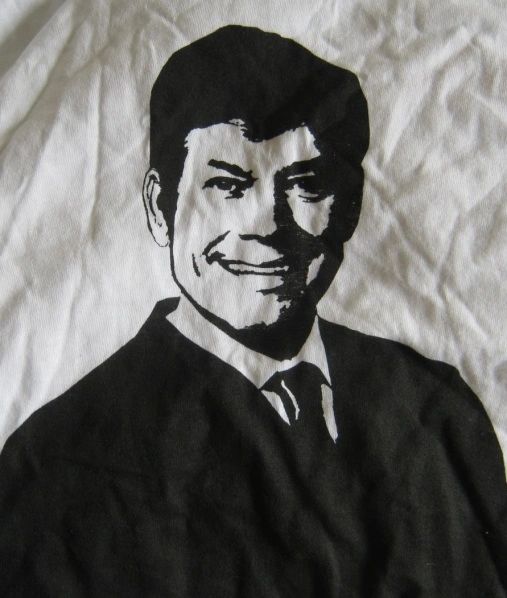 Ms. Christian and her brother at the cook off. John Kennelly; we didn't have a file photo, this is from his T-shirt.


In this instance, I refer to the race between Sedonie Christian and John Kennelly for Superior Court Judge.
There is simply no way to over-estimate the importance of the position of judge. It answers to the people only every six years, and even then people rarely overturn a sitting judge. The Superior Court judge has tremendous power over our lives, in everything from problems with cops to problems with the spouse to problems with the state. In the past, the Prospect has published several pieces which attempt to "defrock" the idea of "judicial objectivity" and the social fiction which is law. But that is not to be interpreted as denigrating people who become judge. I have genuine respect for judges. Yes, the position, like most social positions, is a bureaucrat's job, and as such it has all the characteristics of such a position, including a peculiar logic. Still, what a hellish job it must be. Few among us would willingly sit as discordant parties, none of whom are completely without subterfuge, present themselves and their arguments so we could tease out the truth, or at least the truth as far as the law can discern it. I wouldn't wish the position on anyone.
And yet, I hope to wish it on either Kennelly or Christian.
Your Fringe Editor has asked his many friends and acquaintances who have frequent opportunity to see judges in action, and they all speak highly of Kennelly. Until someone with a better story comes forward, I have no choice but to believe that Kennelly is as good a judge as it is possible to be, and, in the richness of time, his judicial wisdom might rival that of Reg Littrell, who accumulated a long list of admirers over the years. Is it fair to unseat someone who is, by all indications, completely competent?
It is. That's how our system of government works, you get the seat, and when time comes due, you pit your performance against public preferences.
Sidonie Christian was the predicted winner of the last Sierra County judicial race, but she was forced to withdraw due to personal reasons. Charles Ervin, who won the race, might still have won, but at the time, Christian's roots in the county, and her charm, made her seem the likely winner. Her illustrious father, Winslow Christian, was a Sierra County judge who was eventually chosen to head the National Center for State Courts, which conducted research and sought court reform. The Christian family is well known locally for Salmon Lake Lodge, and Christians have a sound history in Loyalton. Ms. Christian herself is personable and knowledgeable and it is easy to picture her on the bench wrestling with the truth.
As a general rule of thumb, elections go 1. To the incumbent; 2. To the candidate that spends the most money; 3. To the tallest candidate. Kennelly has the advantage of being the incumbent, and of being popular with the people he fines and sends to prison. Still, it's too soon to write Christian out.
We'll just have to hope one of them admits to an active cocaine or prostitution addiction, and if not, we'll have to judge for ourselves, to weigh the claims of each and forecast into the future to determine who will serve the county best for the next six years.
The Prospect will dig up what dirt we can and get back to you.
Good Luck!