Count Down To Jerry Brown 122610
The Fringe Prepares
In little over a week, Jerry Brown will once again be governor. Wasn't he just governor; has it been 28 years already?
The first time Jerry was elected, following in the old man Gerald "Pat" Brown's footsteps, he was among the youngest governors at not quite 37 years old; now he'll be the oldest, at 72.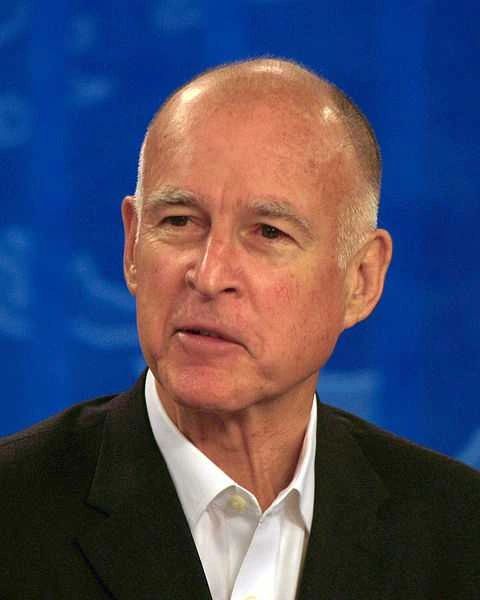 Jerry, from Wiki
I predict he will be a very flacko governor, but, as teachers and drill sergeants and significant others have always said to me, "prove me wrong."
To be clear, it isn't that Jerry Brown was a terrible governor, particularly compared to some since. He was forward looking, optimistic, and a minimalist. He has worked toward some civil rights improvements, and as governor he appointed the first openly gay and lesbian judges. He also appointed Rose Bird, one of the most hated judges in California history, and on of the first ever recalled. Well meaning, but misguided.
He was a fair mayor of Oakland, bringing several projects to completion, improving commerce and reducing crime. He wasn't a bad attorney general, successfully taking on some major opponents.
Brown is already on board with a green economy, and likely will continue Schwarzenegger's trajectory on putting California first in green and renewable energy.
But, will he be able to do the one thing we really need him to do: provide guidance to the legislature?
Schwarzenegger was a strong figure, one up to the task of talking rude to the entire legislature. In some instances, he tried to take on the legislature, hoping the voters were behind him, and he alienated law makers and the public occasionally. Is there any evidence Brown can work more efficiently? We need a budget, on time, with no surprises.
Brown will also have to be an educator, schooling the public on the new life forced on us by the physical limitations of the environment, and the economic limitations of the market. He'll have to explain tough cuts. He'll need to find ways to facilitate a continued existence for those who lose services.
Brown claimed to want to create a climate in California where business could thrive, making jobs. He wants to do this by improving California's education and by creating green, 21st century infrastructure. It remains unclear that education is a significant factor in the death of business in California, and the 21st century infrastructure is a great idea, and will create jobs, many of them funded by government, but those are long term goals, with benefits well down the road. Today and tomorrow are probably going to be tough.
Jerry wants to finally close the water project he began as governor all those years ago, the project which Schwarzenegger couldn't' quite bring to fruition. Reading his water propaganda,
HERE
, one quickly sees all this simply can't be done, even though Jerry figures in climate change.
It's easy to be king when times are fat; is a Jerry Brown in his 70s finally wise enough, and finally fixed well enough in the political machine, to do what his supporters hope he will?
I'm dubious, but, prove me wrong.