Cooter- the story you never heard but always knew must be out there
Today, everyone knows who Cooter is; his fame has spread along with that of the Prospect. But, very few people know the real story behind this Deva Dog, his humble beginnings, his descent into degradation, and finally, his rebirth at the wise and clumsy dog we all love.
His life has had its share of ups and downs, and it started down. Born one of eight kids to an unwed mother, Cooter's early life is a story of loss and mourning, and a trail that leads through foster homes and hobo camps. It brought him to his first job in entertainment, a humble, some would say deviant start.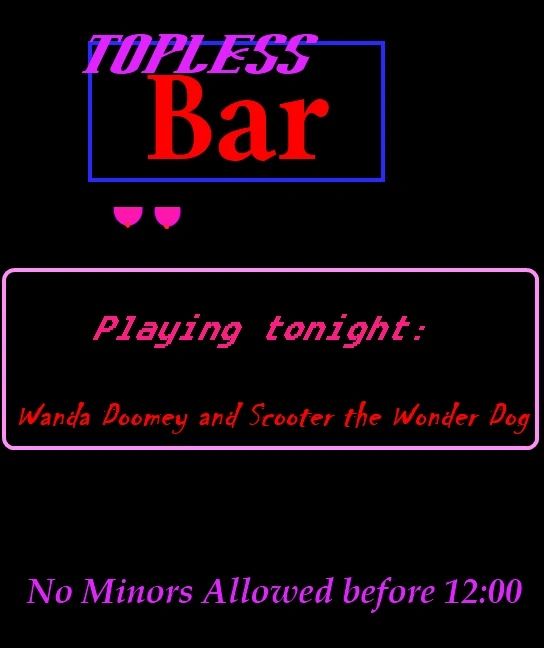 An early gig doing live porno in a seedy nightclub. He used the stage name "Scooter". "I'm not proud of it, but I got three squares and she gave great ear. I learned a lot."
He worked nights in a club in the seedier part of LA with a exotic entertainer. He performed three times nightly with Wanda Doomey; some say their relationship was more than professional. He had just turned 3; 21 in human years. The grueling schedule left him exhausted, and he lived almost exclusively on oysters and bananas. It wasn't a great gig, but, there me met top designer Prince Schnauser, a frequenter of seedy LA clubs, who lined him up for a modeling job with Brown Dog © Underwear.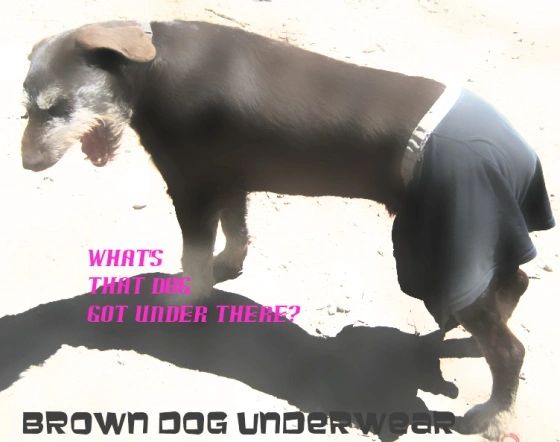 What's that dog got under there? Brown Dog Ad. Photo courtesy Brown Dog Inc.
The BDU ads propelled a guileless Cooter into a world of glitter wolves and vanity vampires. The money, fame, drugs and inter-species interludes soon destroyed him. He went into rehab three times in two year and spent a total of 760 hours of community service from numerous trips "to the pound". He had hit bottom. In his journal he says, "I didn't know if I wanted to live, or die."
Live or Die. He got a prison tear drop tattoo, but his hair grew back and it isn't visible.
Finally, out of control and with little hope, he found himself in a jail cell in Seattle. There, he met an inebriate name Don "The Duck" Russell. Russell tells him about a job with a newspaper in Northern California.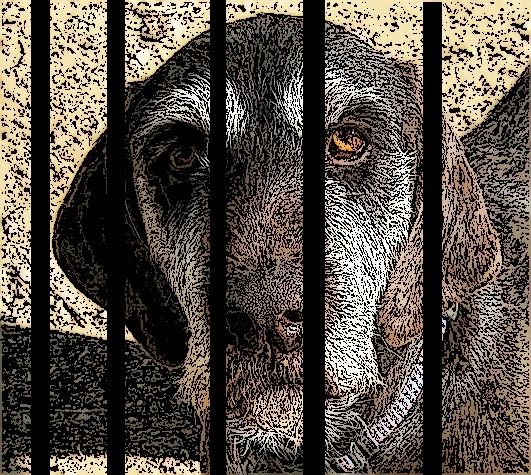 Doing Time in Seattle Sketch by Seattle Artist D.B. Cooper
At first, he slept under the car and ate table scraps in exchange for photo shoots. Then, he published "The New Green" in the Prospect. It was the first clear spark of the comic genius that lay beneath that perfectly groomed exterior.
Cooter Dog
He's a fair boy!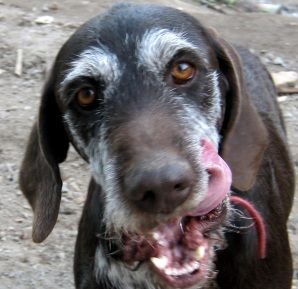 I think using toilet paper wastes two kinds of fiber. I'm probably the new green.
The New Green. This was the first blockbuster Cooter. It wasn't long after this he was promoted to "good boy".
His relationship with the producer of "Cooter", the Fringe Editor, is as strong and creative as it was in those early days. Today, though, he gets a little more than table scraps.
Long live Cooter, he's a good boy!