Candidates Speak Out in Downieville 050912
L.F. Photos Courtesy D. Russell, Mountain Messenger News Service
Thursday night at the Yuba Theatre turned into quite a civil affair. As the Chairman of the Democratic Central Committee, Cindy Ellsmore, suggested "civil discourse" would be the theme of the evening.
Several candidates for local offices appeared and presented their case for election or re-election to various county seats. Among them Sierra County's unopposed Supervisor District I unopposed Lee Adams, Superior Court Judge incumbent John Kennelly and challenger Sidonie Christian, District 4 Supervisory Candidates Mike Moore and Jim Beard. The District Supervisor unopposed Paul Roen was unable to attend the event.
Former County Assessor Bill Copren acted a moderator and managed to convey a sense of decorum and humor to the proceedings. Candidates were allowed a 5 minute opening statement, 90 second responses to questions both written and asked from the audience and Timekeeper, Don McKechnie kept them on schedule with his 30second warning and the final "End of Time" signs.
The forum opened with the Judge candidate Christian outlining her history and connection to Sierra County and clarifying some misconceptions derived from the candidates forum in Loyalton. She stated she was born in Loyalton, her family has owned the Salmon Lodge in the Lakes Basin area for many years, she had attended McGeorge Law School and passed the bar in 1994, worked in the Yolo County District Attorneys Office and for awhile in Mendocino County, she did become inactive with her Attorney status on the California Law Bar but said even while she was inactive she acted frequently as a legal adviser informally assisting people. According to Christian her main goal is to serve the people of Sierra County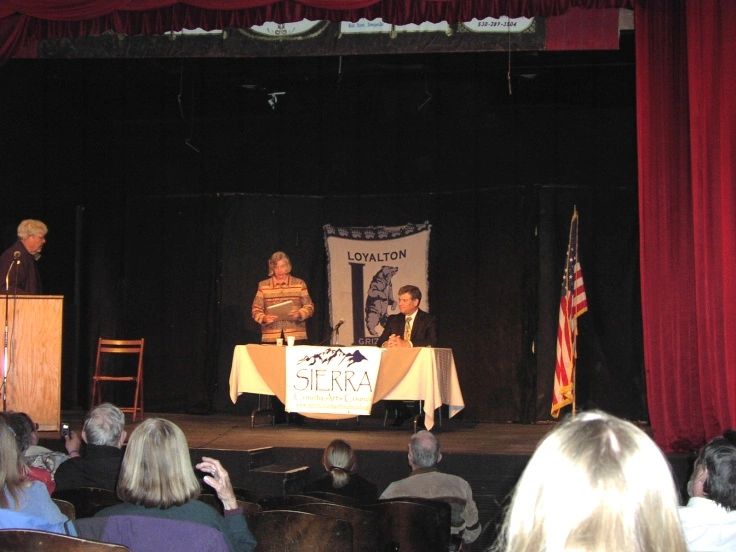 Next up was incumbent Superior Court Judge John Kennelly, who outlined his long career as an attorney and his commitment to the Sierra Valley resulting in becoming a Sierra County Judge in 2005 and presiding Judge two years ago. A question about the drug court came from the audience and both Christian and Kennelly suggested they were happy with the process getting defendants into programs and the rehabilitation process.
Asked to elaborate, Christian said she had no further comment, whereas Kennelly continued saying, "the bulk of cases primarily are criminal misdemeanors, normal everyday people caught up in the struggles of life." He continued, "we usually do not see 1st Offenders again", indicating the offenders are often embarrassed and regret the circumstances that got them into court in the first place. Christian then said, "even these small court cases can be indicators of problems and other agencies might be able to step in".
The drama of the evening involved Editor of the Mountain Messenger Don Russell who asked the candidates their position on the death penalty. Christian and Kennelly suggested it would be improper to comment on this as if a possible death penalty case came before a Judge it might be a reason to disqualify them form hearing the case. However Russell would not take "no comment" for an answer and insisted he and the public had the right to know their personal opinions and feelings. Christian continued to refuse to comment, whereas Kennelly elaborated suggesting that even though he may have personal opinions on any subject he would not be allowed to let this affect his decisions and thought process in any courtroom situation and therefore it would be imprudent to disclose his personal thoughts. Russell was still not satisfied and one could tell he would not be satisfied until he received some kind of answer, he may have muttered something like "this is chicken poop" but since he was muttering it was unclear exactly what he said.
Asked why should we vote for them, Christian said, she was "wired for the job" and interested in seeking good results and it would be an "honor and privilege to serve the people of the county".
Judge Kennelly said he has a record demonstrating his experience and capability over the past eight years and his commitment to the county since 1980 and finally he enjoys his job and wants to keep doing it.
A quick break was taken to enjoy refreshments served up by volunteers from ARF, Sierra County's Animal Relief Fund.
Supervisor Lee Adams was next to step up to the podium. In his opening statement Adams said this type of grassroots forum was "exactly what our Founders had in mind". Adams outlined his responsibilities as a Supervisor and the many various ways he represents our County on regional boards and state committees. He talked about how the current Board of Supervisors is "business friendly" and the many ways they continue to encourage business and tourism. He mentioned how well the relationship between the county and Sierraville Ranger District was going and hoped to see the same kind of "stepping up to the plate" attitude with the Downieville Ranger District soon. Adams just this week returned from a meeting with State Historic Association having successfully managed to have all three bridges in Downieville qualify for National Historic status. This will open the door for funding for maintenance and repair of the historic one-lane bridges.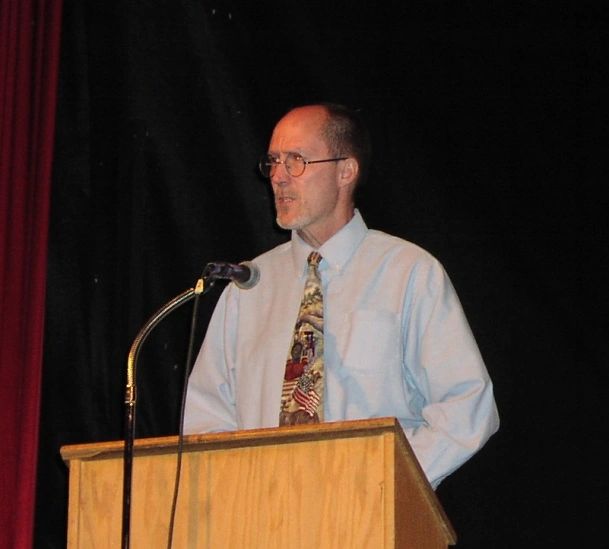 Once again drama ensued when Editor of the Mess Don Russell accused the current Board of violations of the Brown Act. After denying any such accusation, Adams brought the audience to laughter by saying, "if we are we are not doing it very well."
Another questioner wanted to know how the Transportation Commission was allowed to have three Supervisors on it if the commission made recommendations to the Board how was that allowed. Adams said he would research it and get back to them with an answer.
Based on previous reports of the forum held in Loyalton, many in the audience seemed to think there was going to be some "BAM POW SPLAT" moments between the two candidates vying for the District 4 Supervisor District, there was a loud sigh of disappointment in the audience as the civility between the two candidates reached epic proportions of friendliness.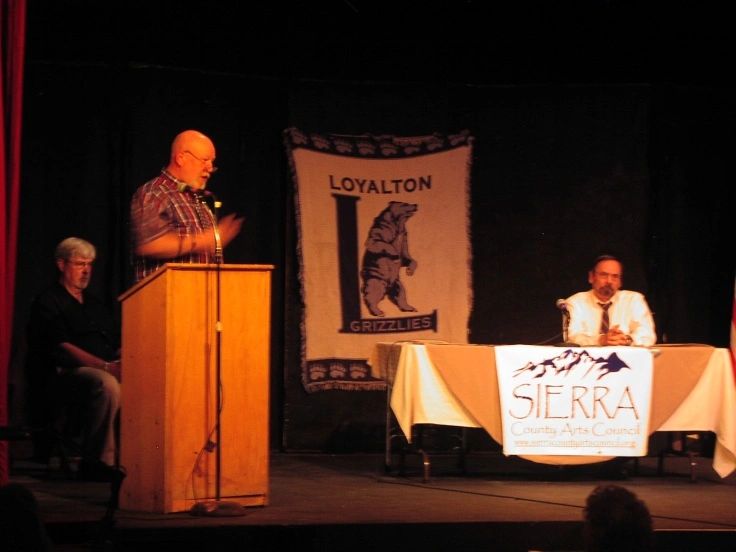 Jim Beard now serves on the Loyalton City Council, SEDD and the Sierra Transportation Commission and is a volunteer with Boy Scouts of America. He hopes to help the economy by attracting business and to work with SEDD for loans for start up small businesses. Mike Moore has lived in Sierra County 35 years including Alleghany, Pike, Sierra City and finally now in Loyalton he worked as a teacher, and served 12 years as Superintendent of Schools. He is presently Chair of Sierra Plumas School Board and has previously served on the Loyalton City Council where his policies included infill on growth and smart business development.
Both candidates said they would represent District 4 but consider the best interests of all of Sierra County as Supervisor.
A question from the audience asked both candidates if they supported the petition to deny the "corporations rights as if a person".
Beard said he had never heard of this and couldn't comment as he "didn't have details and can't comment".
Moore said, he was very familiar and "is appalled that corporations are deemed individuals".
Moore concluded with his final statements, saying, "please vote for me, I'm most qualified for the job and I believe - do it right or not at all. I want to serve our county this is a neat place to live."
Beard concluded by saying, "I understand what is important and will do my best."
Editor Don Russell having already caused two disruptions chose not to cause any more trouble and remained silent.