091411
Calpine Marketplace
By Gabby "the reporter" Fringette
Yes, I was that short business-like woman hanging around the vendor stalls, and as I promised, here is a good report.
As you can see a large sign is placed at the entrance of the Calpine Park, where the market was held.
I like the orange balloons.
I would like to thank the Crowders, without whom the Calpine Marketplace wouldn't have happened, thank you.
The Well Sure stall, nice for two reasons: 1. they will test your water. 2. they will test it for free if you win their raffle.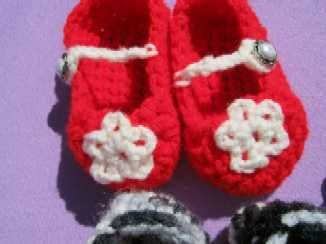 I am surprised when I meet someone with the patience to knit or crochet, particularly when as skillfully as these, by Emberlee Styles.
The raffle was a big event in the CM.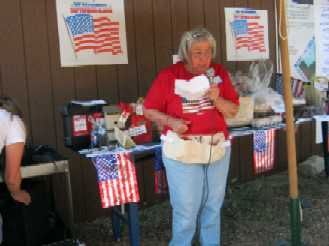 The lady with the hat is MaryJo Knuth and the announcer was Toni Manning.
The boy drawing the tickets is Duncan Kennedy.
The raffles were drawn over the course of the day, with great prizes donated by local people and businesses.
I love jewelry and I think that these jewels are beautiful.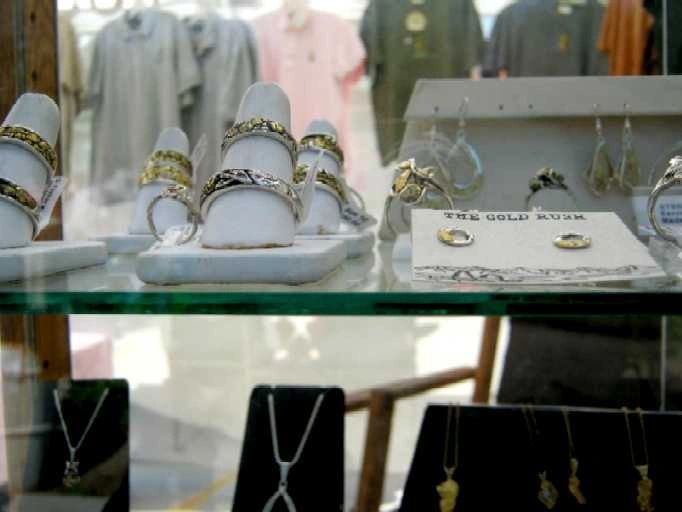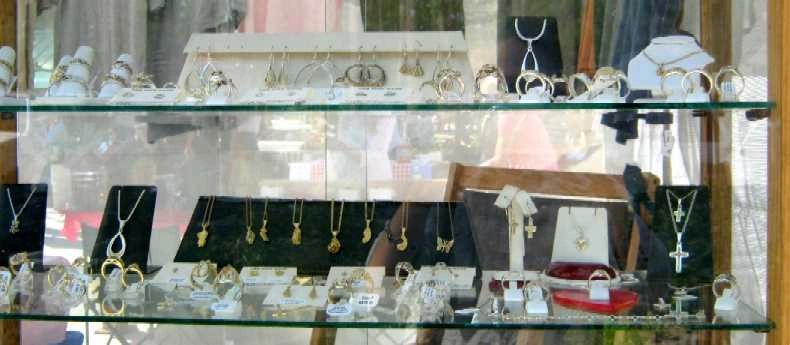 The Gold Rush jewelry has real gold in it!
The walking sticks have real craftsmanship.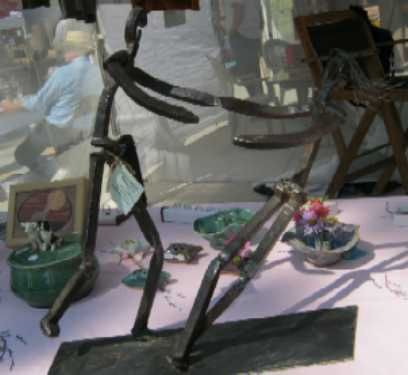 The welding is from the Wild Hare Welding.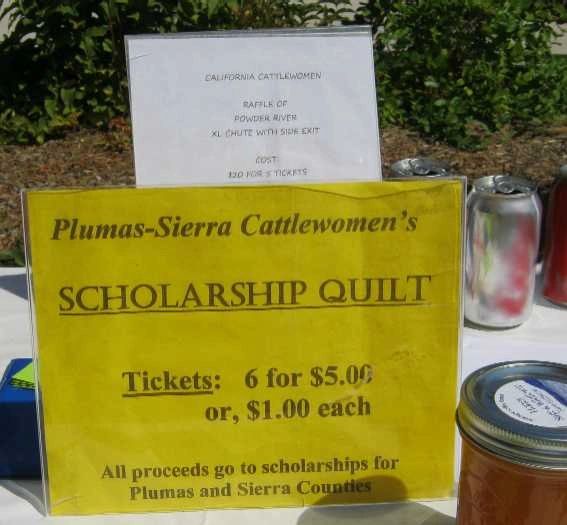 The scholar ship quilt of the Cattlewomen, with all the local brands.
What beautiful purses.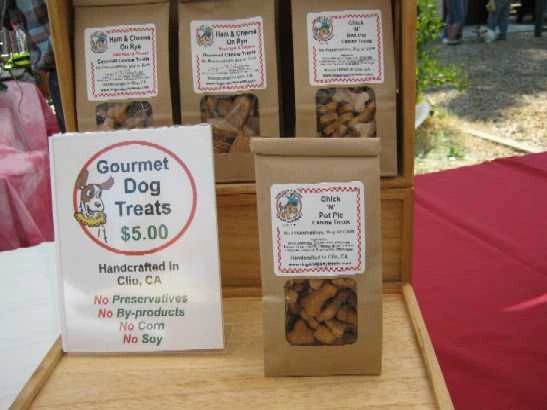 Tasty treats for your doggie!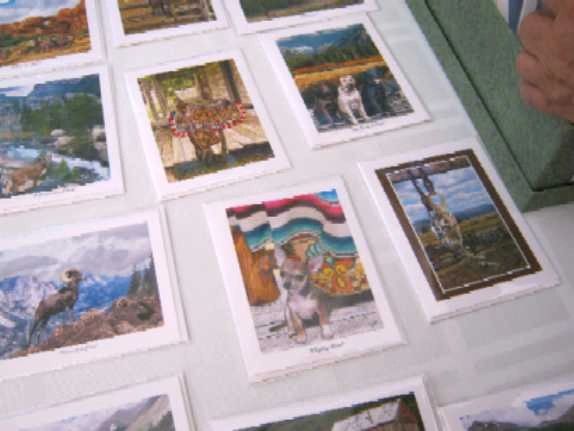 These pictures are called "Artography;" they are edited and collaged on the computer, then run through a filter to blend it a little.
Any one who can work with rocks like this I think has talent.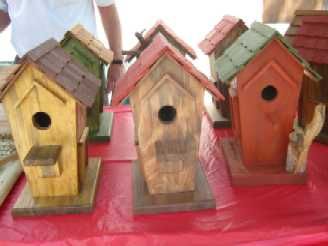 I like it when I see something locally made, by hand.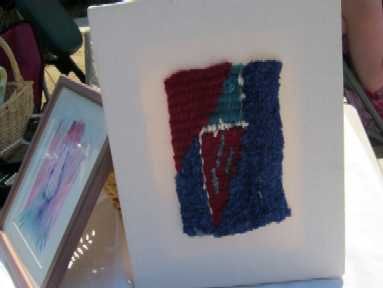 Here are some neat booths:
Wool dish cloths and ornaments, home made.
This booth was owned by friends of mine.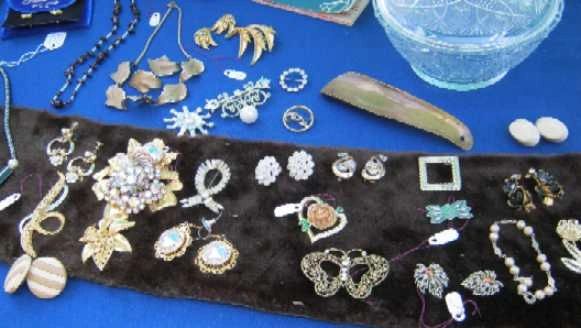 Marjorie Voorhees has vintage jewelry.
Home grown in a neighboring valley. Nothing better.
The pickled garlic is delicious!
There was lots of art!
The first Calpine Marketplace was so successful that they are planning to have more before long. Calpine Improvement Association sponsored the event, which was organized by Bill Nunes and Paula Crowder. Ormond Crowder and many local volunteers provided enthusiasm and energy. Special thanks to all the vendors and the many local people and businesses donated prizes, see the lists below.
CALPINE MARKETPLACE – SATURDAY, SEPTEMBER 10, 2011
RAFFLE PRIZES
2 Kahlua Chocolate Bundt Cakes - Estrada's
1 Bottle of Chandon Champagne- Estrada's
1 Bottle Pinot Noir/SANTE by Francis Ford Coppola- Estrada's
1 MISC Basket including $10.00 SEE's Gift Cert. - Butlers
1 Beach Basket including $25.00 TARGET Gift Cert. - Chris Lindberg
1 Truckee Sourdough Bread Basket - Sierra Valley Trading Co./Crowder's
1 $50 Gift Certificate - GOLD RUSH GALLERY/McMaster's
1 bttl Champagne/3 bttls white wine - MaryJoKnuth and Toni Mannino
$20.00 Gift Cert - Jimmy's Roadhouse Restaurant, Portola
$50.00 Gift Certificate LEONARDS, Portola
Craftsman 104 piece Mechanics Tool Set ($100) - ACE Portola
$20.00 Gift Certificate - LOS DOS Restaurant, Sierraville
6 pax tickets for Vintage Caboose Train Ride and Western Pacific Museum
Railroad 6 wrist bands for museum admission($100) (Portola)
Still point Massage – I hour massage ($70.00) -Susan Wilson
One dozen fresh eggs includes free delivery in Calpine -Duncan Kennedy
One Can orange flavored hot chocolate/2 mugs - Kennedy's
2 Martini glasses/martini pitcher/bottle of gin - Kennedy's
Farm Bin filled with goodies – Sierra Valley Farm and Ranch Supply, Sierraville
One hour Massage – MaryLee King, Park Place Salon, Portola
Wine Basket – Marlene Boggs/Ron Bem
$40.00 Gift Certificate – Sierra Valley Lodge
(good for Lodge or Motel)
2 Gift Bags - The Red Pony, Sierraville
Bottle of Wine and Wine Glass Holder Set – MaryLee King
One Facial – My Skin's Best Friend, Portola
Ronnie Halverson
Gift Certificate for One Chiropractic Exam & Consultation – Dr. Sanford, Portola
One Set of Sterling Silver Opal Ear Rings – Pixie Pam Jewelry, Pam Cawiezell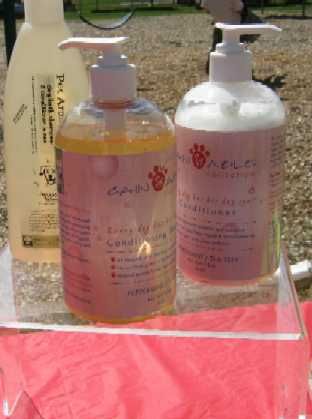 CALPINE MARKETPLACE VENDOR LIST – SEPTEMBER 10, 2011
VENDOR NAME
SWANN GARDENS INC - Produce and Green houses
PSCW/Kathy Knight (PLUMAS SIERRA CATTLEWOMEN)
JANET BUTLERMARYLEE KING – HOMEMADE JELLIES
EMBERLY STYLES/AMANDA GROB- hand crocheted baby clothes
SIERRA VALLEY TRADING COMPANY/Crowder (Truckee Sourdough Breads/Blind Dog
Coffee's/BullyGardenTools)
SNO-CONES, ANNIE TERRASAS-FASSBENDER
HALVORSEN CONSTRUCTION- 'Built to Stay' Fine Wood Work - George Halverson
WELLSURE – Paul and Debbie Rose
MOUNTAIN HORSE ART DOG & PONY TREAT CO. - Carol Hale
RUFF ROCK CREATIONS/Carl Gladwill
PRETENTIOUS POODLE/Vallea Rose
GOLDRUSH GALLERY – Deb and Ken McMASTER
U-BET PRODUCE and PLANTS -Roger Rollins
SOPHIA FARMS/Jen Kennedy
PIXIE PAM JEWELLRY - PAM CAWIEZELL
STILL POINT MASSAGE - SUSAN WILSON
Home made ARTS/CRAFTS - LYNN STEWART/PEGGY HEISE
Antiques/Collectibles/Coins - DON ST. DENIS
TAHOE ARTS & GIFTS- Joyce Major
DARBY HAYES FINE PHOTOGRAPHY
Fresh Produce - DWIGHT BROOKS
COUNTRY CLASS STAINED GLASS -MARJORIE VOORHEES -
(variety of items including produce and plants)
YARD SALE BOOTHS
JO ANN CHESNEY
DINDY CANAVERO
KAREN JOHNSON
MAX BRADSHAW Portola
RUSSELL ROSEWOOD
DAN CAREY Portola