Board Notes 111611
A day of news too good to be true, and truth too true to be good news.
The Sierra County Board of Supervisors met in continued regular session in the Sociable Hall in the little rural village of Loyalton. The leaves were turning, the winter wheat was just sprouting, and innocent children played less than a thousand feet from the gripping political angst and drama of the meeting.
Here's the day in review:
From Director of Physical Things Tim Beals: 1. The navy is going to fly 100 feet over some parts of the county, so don't build anything higher than that; 2 Snowlands Network is suing the Forest Service and specifically the Tahoe and naming Sierraville Ranger Station for grooming snow. See "stolen from the Mtn Messenger," this edition.
The Board, after considerable discussion, approved an announcement for the position of Director of Health and Human Services.
Warm and Fuzzy: Paul Roen awards Director Tim Beals and Supervisor Bill Nunes silver shovel awards for the help they provided the Upper Feather River Watershed Group. The pair worked to support agricultural water resource stewardship.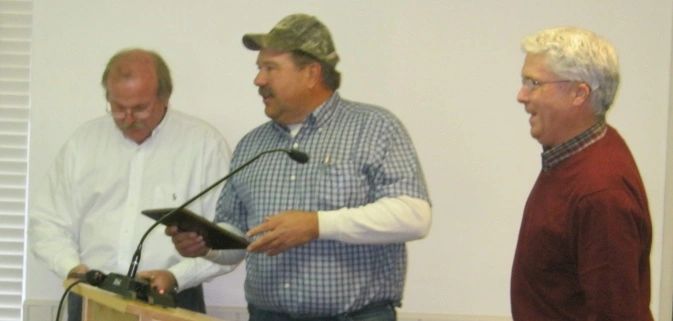 Roen, who has announced in pulp papers his intention to run for District 3 Supervisor (so it still isn't official) praises Beals and Nunes.
The actual plaque, with Bill Nune's actual fingers.
Happy Moment: Hope for Loyalton
Michelle Piller, chief at Plumas Rural Services appeared with Keith Logan and well-known local steam man Jim Turner to talk of grand plans for the Loyalton SPI Cogen Plant. As we reported recently HERE and HERE, PRS has been talking with SPI about the plant and the industrial park attached to it.
The plan continues; Sierra Pacific Industries continues to be very reasonable, so reasonable that they've offered to leave Jim Turner with the plant. Turner, it is rumored, can wake up from a sound sleep if the generator or boiler hiccups in the night.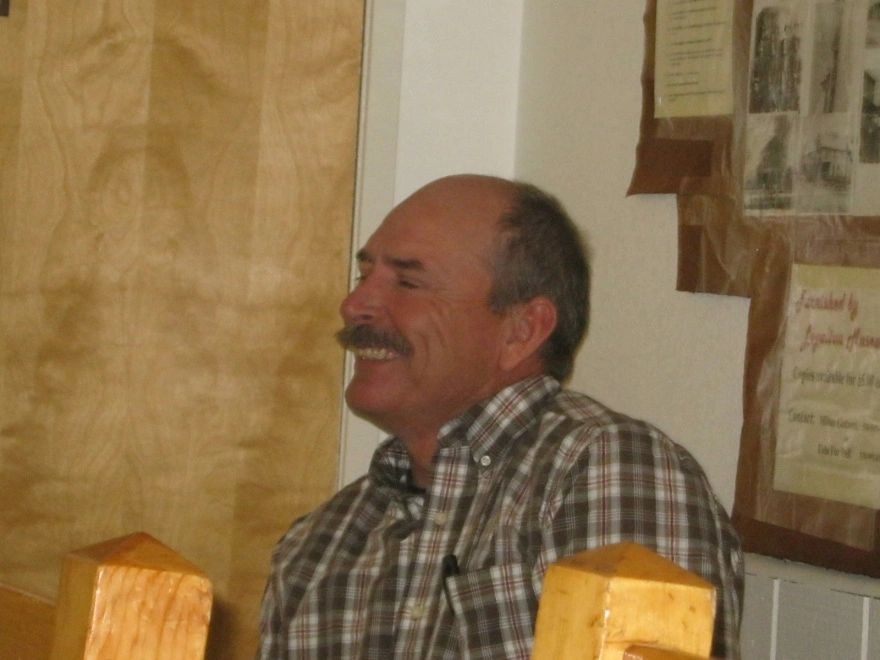 Jim Turner: steam in his veins.
Also speaking was Keith Logan from Logan Enterprises.
There is a great deal of skepticism on the part of some toward Logan, who has been coming to the county for a while now with wild dreams of a biomass to fuel plant, fish farm, slaughter house, and a host of other plans for the cogen plant and the site. Some compare him to Harold Hill, from "Music Man", the wise cracking huckster who sold a town on the idea of having a marching band.
"Seventy-six trombones in the Big Parade!"
Robert Preston as Harold Hill in The Music Man
Is there anything to the analogy? To be sure, Logan has a fire for biomass cogen, and some might think he's unreasonably optimistic; he thinks buying the old Loyalton Hotel is a great idea because people are going to come from Africa and all over to see the plant and projects. But people generally agree to a few things about Logan:
1. 1. He might be slick, but his vision could come to be, even though it seems a long shot now;
2. 2. He's been working at it for a while and certainly should know something about it;
3. 3. He is overly optimistic and hopeful, but waddaya know, sometimes people like that work miracles, and if any place needs a miracle, it's Loyalton.
Further, Michelle Piller has been working in the community providing social service for 19 years; she's respected as the head of PRS. She radiates competence, and has the handshakes to get things done.
Michelle Piller: infectious optimism and hope without fear.
Will something happen overnight? The plan is to have steam coming from the plant in just a few months; that is a miracle of its own.
If nothing else, Piller and Logan realize something important: we have biomass, it's where our future lies.
Piller explained that there was a power purchase agreement in the offing, and already plans to expand a compost business at the industrial park. That's pre-miracle news, at least.
The giddy group represents hope for Loyalton and the county, and there is really very little other hope out there.
Along those lines, the Board entertained Tom Hayes, director of Eastern Plumas Health Care, who spoke frankly about the Loyalton Hospital facility. The hospital recently took a 23% cut on skilled nursing facility beds in state reimbursements. The plan to try to save local health care and the Loyalton SNF includes reduced salaries, possibly reduced residents (EPHC doesn't always make more money with more residents) and appeals for reason from key officials. Mr. Hayes said it had been suggested that elder abuse charges be filed against Brown and others for cutting reimbursement rates so low.
Mr. Hayes wasn't unduly optimistic, saying the situation was "very serious". Still, he was as optimistic as a realist could be, and the clear message is that continued effort might save the hospital. He did say that the Loyalton and Portola health clinics and ambulance service are probably secure.
Tim Beals introduced some possible changes to the 2011 Building Codes. There are some recommended changes, including lengthening the time a builder has to build a house, and regulations for ag buildings, which have so far escaped such rules.
The draft will be online soon, and there will be further discussions.
Other things happened, but they probably won't come to much.
Good Luck!