Board of Supervisor's notes 01/19/10
The Sierra County Board of Supervisors met in continued regular session. All members were present.
Dr. Carol Roberts, Director of Human Services reported on the success of the subsidized employment program, and the department's efforts to recruit employers (see ad this issue).
Quentin Youngblood, from the Sierraville Ranger District, reported to the Board in lieu of Tom Quinn, Tahoe National Forest Supervisor, to explain the Jack Nixon Mine eviction and destruction.

We found no file photo of Forest Supervisor Tom Quinn,
but he's a spitting image of Will Farrell, shown above as
a FS employee.

The Board was not pleased at all, and if Mr. Youngblood could take a hint, he'd have left off, but he'd been sent to do a job and he is a good soldier, so he dutifully read the "these questions…sent in by Laurenc DeVita." He proceeded to read the questions and answers everyone had already read in the Prospect, HERE. The board members looked around the room, impatient for Youngblood to finish his mission.
The Board was displeased because the county did not have appropriate notice.
Chairperson Dave Goicoechea, normally the very soul of wit and bonhomie, held a partial frown the through the entire events; Lee Adams was stone faced as only he can be.
Youngblood finished and was dismissed and Sheriff John Evans took the podium. He explained that he had known about the project, and Sheriff Office personnel including himself were present.
He explained that he didn't think there had been any conspiracy to keep the County in the dark. He explained that he has learned from the event and will notify the department heads and supervisors next time the federal government conducts a raid and cues him before hand.
In truth, though, the Forest Service had the Sheriff along both to act as local civilian law enforcement and partially as scapegoat. It might be hypothesized that if the Sheriff had tipped the supervisors and a large number of locals had appeared to prevent the eviction, it is likely the Sheriff would not be included in the next Forest Service raid.
In private conversation, Sheriff Evans stated that there had been lights and sirens emergencies to the mine, mostly due to one person who is no longer there. Still, it was a place where transients sometimes stayed. In general, transients are not welcome to settle, we guess, and it's best if they move on, remaining transient.
In the long run, perhaps the county was best represented by having SC Sheriff personal in place. The people in the houses were known to them, they were able to offer social services.
Chairperson Goicoechea was not impressed. He said it was a problem that the supervisors and department heads weren't notified. He noted that the Forest Service has their own paramilitary troops. (At one point the Prospect had been told by Greg Schimke that only four officers were involved, but eyewitnesses said there was a caravan of Federal law enforcement.)
The Sheriff said he assumed everyone had been notified. He was not asked not to tell anyone.
Chair Goicoechea said, "there's a need to handle this differently… I'm concerned about these actions.
Supervisor Pat Whitley stated that it wasn't up to the Board to tell the Sheriff what to do, he's an elected official.
Supervisor Peter Huebner said no one is blaming the Sheriff, it was the Forest Service that failed to properly notify the county.
Director of Public Works Tim Beals reported to the Board on a proposed plan for Cal Fire to charge rural parcels for fire protection.
The Pearl Street Bridge remains a problem; likely it will have to be replaced.
Dennis Coggins was recognized by the Board for 23 years of service to the county.
The Board will meet next in Downieville the 2nd of February at 10:00 A.M.



______________________________________________

Board notes 010510
The Sierra County Board of Supervisors met in continued regular session this Tuesday, 5 January, 2010. All supervisors, Adams, Huebner, Whitley, Nunes and newly promoted Chair Goicoechea were present.
The first act of the Board was the ritual passing of the gavel from Bill Nunes to Dave Goicoechea. Nunes first handed the gavel to Goicoechea, but Don Russell, of the Mountain Messenger Newspaper, insisted on a proper handshake and passing of the gavel. Our Prospect photojournalist took the picture a split second late; here's what it looked like just AFTER the passing of the gavel.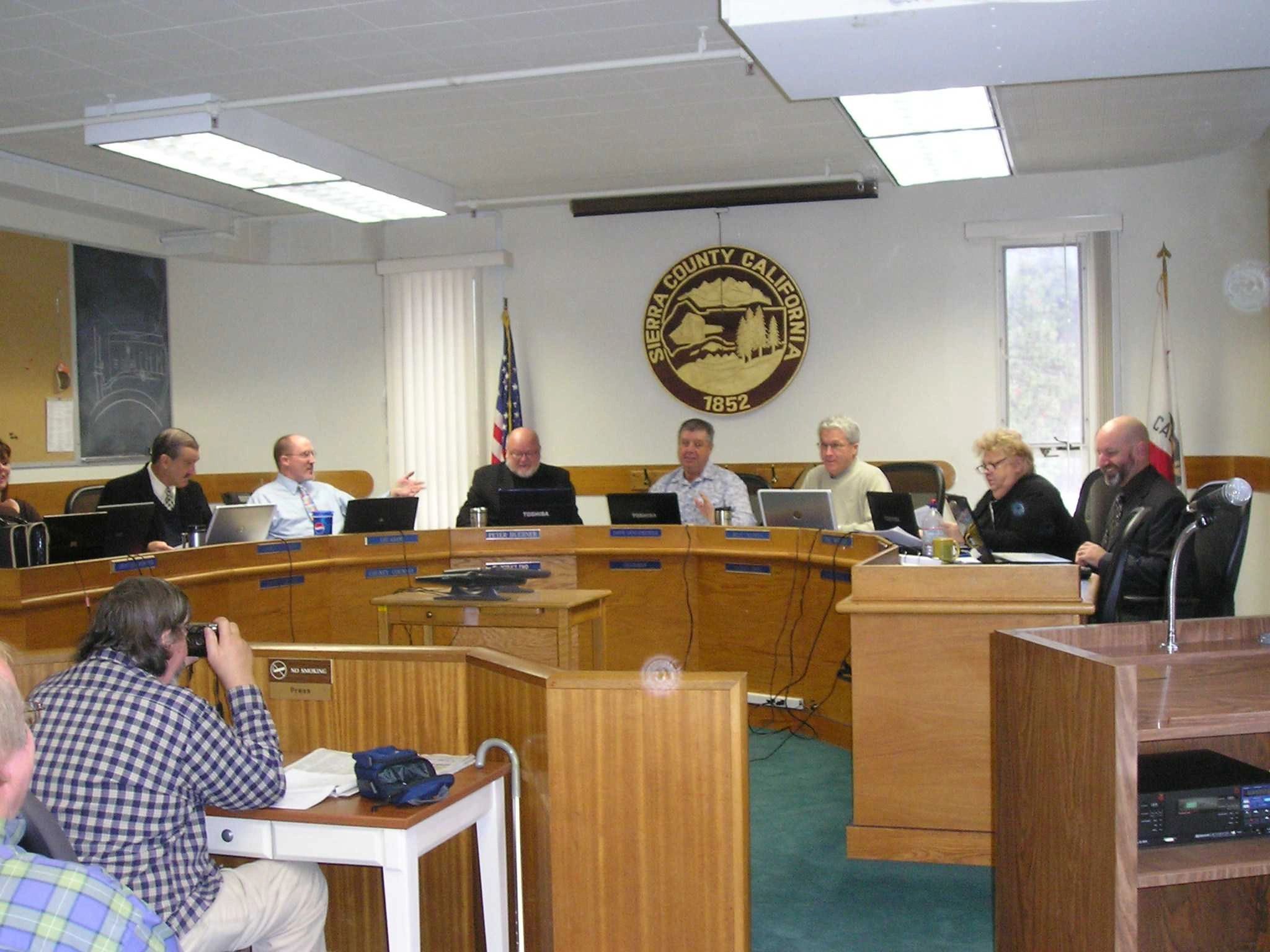 The real news item is that the SPI Loyalton Cogen Plant is running, the beautiful generator is spinning in its hydrogen bath. Supervisor Goicoechea credited a number of people including Supervisor Huebner, with the improved market for the cogen plant.
Director of Snow Good Times Tim Beals brought the problem of the state's contract in conjunction with the county for grooming of the snowmobile trails. The item was placed on the agenda, and a discussion ensued.
Snow is one of Sierra County's remaining assets. Groomed snow makes for a pleasant snowmobile ride and hence more tourists.
Part of the county is being groomed by volunteers. The Little Truckee portion is not yet groomed, and it's right expensive to get it groomed. The contractor is ready to go, and will volunteer, knowing he might not get paid if the state doesn't bite on the contract.
To help, call Terry Harper, California Parks and Recreation, at 916 445 9982, or email him at tharp@parks.ca.gov. Ask him to complete and sign the contract for Sierra County snow grooming. We need the snowmobiling public to visit sierra county.
Sheriff John Evans brought forward a deal too good to refuse for an advanced dispatch system. Homeland Security will be paying for it.
In the next big good news of the day, Director of Human Services Carol Roberts and County Council James Curtis ironed out a plan for 40 subsidized jobs in Sierra County. In the previous meeting complications in an agreement for the program seemed about to capsize the jobs. Now a plan allows Sierra County Health and Human Services to oversee the program, bringing the chance for work to 40 families. Though he denied a key part in clearing the roadblocks for the jobs, rumor has it that Supervisor Peter Huebner was "very responsible" for resolving the problem and securing the $1.2 million dollars.
Next up, the Hudson permit appeal. Director of Endless Crapola Tim Beals presented a document which outlined again the Hudsons' project, the objections, and the resolution. This document is available HERE. The Board accepted staff recommendation and Planning Commission findings and granted the Hudsons a permit, at long, long last. The appellant, High Sierra Rural Alliance might still sue, but people have lined up to support the Hudsons should that occur. Chances are good they'll be able to start on their new house soon.
Photo: Happy Hudsons; it looks like they might actually get to build their home!
The Board instructed Director of Dealing with Strangers from Out of County Tim Beals to write a letter to the Public Utilities Commission encouraging them to consider favorably a complaint put forth by, among others, Plumas Sierra Rural Electrical Coopererative, Truckee-Donner Public Utilities District, and the City of Loyalton to prevent or modify the sale of power units in Loyalton and elsewhere to a California company owned by a Canadian corporation.
The Sierra Pacific Power Company, who currently owns the units, had rebutted the facts of the complaint, but on Thursday of last week power was out to Loyalton for 5 hours, and the Department of Health and Human Services has reportedly been waiting for SPPC technicians to hook up a new service.
The letter is found HERE (page 1) Here (page 2) Here (guess!)
The new chairperson Goicoechea dropped the gavel on the 10:00 timed item promptly at 10:35. The representative from Sierra Economic Development Corporation was not present due to illness. However, Vallea Rose, County resident and small business owner, as well as member of the Sierra County Economic Development Committee stood forward to praise the SEDco for the wonderful "business bootcamps" they put on.
That was the most of it!




Board meets 12/15/09
Board meets 12/15/09
Packet is here.
The Sierra County Board of Supervisors met in continued regular session in Loyalton last Tuesday, 15 December, 2009. All Supervisors were present.
The meeting opened and a lot of things most of us don't care too much about happened.
The agenda's fine the minutes are fine the consent agenda's fine, and the Forest Service is going to try to do some work between Beckwourth Peak and the Yuba Pass and Dave Goicoechea says the Loyalton portion of the NV Energy/Sierra Pacific Poser/Cal Peco electrical grid is shabby and likely to give problems and Tim Beals Director of the last unlined landfill in California says the good times can't last forever and Rebecca Kincaid is recognized for her work in the Probation Department and Jeffrey Bosworth, Chief Probation Officer says for the first time in 20 years the state is going to spend money on adults getting out of prison and they need an assessment tool and the Feds should share the cost for grooming snow, but probably they won't and if they do it will be when it pleases them, the Sierra County Business and Economic Development Committee wishes they had some direction from the Board and we get a jillion dollars to send us all to rehab and then came…
The Alliance for Workforce Development, Dr. Carol Roberts, 40 jobs 30 hours a week all expenses paid, and the enigmatic James Curtis, County Council.
Dr. Carol Roberts took the podium with Tracey Holt, for Alliance for Workforce Development. There is a work shortage; unemployment has nearly doubled.
There is a huge grant, we are told, $1.3 million, and we get a share, everyone does! The money will pay for 40, 30 hour a week jobs. That will nearly double our non-government work force, (not really).
Under this program, which should help unemployed county residents find employment, the County Human Services would screen clients and send qualified applicants to AWD. They would spiff them up, give them a resume and find them a subsidized job.
The Employer would make a contribution of 20%, most often in the form of valuable supervision. The Alliance would, for a modest fee, oversee the project. Sierra County would also get a few bucks.
The Board and their camp followers are often treated to such displays, and generally they are formalities and end up in the boring part of the Board Notes. A few of us mistakenly thought that's what was going on and were talking amongst ourselves as quietly as half deaf old boys can do that, when suddenly it became clear that there was some tension afoot: news was about to happen.
And, indeed, that's when, after waiting as patiently as a spider, County Council Jim Curtis had a say.
He advised the Board that the contract presented to him did not protect the County should something go wrong in the process. Indeed, he told Ms. Holt of AWD: your organization can walk away and Sierra County would be left with the debt on the General Fund. The room gasped. The county could be left holding the bag for over half a million dollars.
He asked Ms. Holt for evidence that AWD could or would accept liability in the event some portion of the project didn't meet criteria or the program had to be repaid or accounted for in some way.
The acoustics were bad; all this reporter heard was stammering.
There was a give and take, with Ms. Holt and occasionally Dr. Roberts holding forth this or that benefit or this or that concession, but Mr. Curtis was never shaken or even effected. He stayed with his point: AWD simply did not offer Sierra County enough protection.
After watching Mr. Curtis for a year now, this reporter has come to appreciate how much he loves his work. He doesn't get much of a chance at an adversarial role at the Board meetings, and the contest is what brings many to the craft. It wasn't much of a contest, but he made what sport of it he could, allowing Ms. Holt and Dr. Roberts their say on this or that point, and then slapping it down with restraint, but also flourish.
The discussion was hung up on one thing: Ms. Holt could not provide the county evidence, in writing, that they could and would accept liability for their part in the program.
At one point Dr. Roberts indicated, "This is why this matter is before the board." In her view, Mr. Curtis was asking for more assurance than was necessary, or was in some way making it difficult for the process to move forward. One had the sense that for her, this was social service business as usual, and she has worked with the service providers before; it is common for social service providers to divide the pie in such manner. Perhaps for Dr. Roberts this was not academic, perhaps she attached faces to the "40 jobs, 30 hours a week," people who for reasons of finance and personal wellbeing needed these jobs.
Ms. Holt brought forth the Modoc Contract. It was no problem, they are doing the same thing on Modoc.
The Board was not amused. Why was this not simply worked out by staff and brought to the consent agenda?
Dave Goicoechea asked, "(Mr. Curtis) have you reviewed the Modoc Contract, and could you approve it?"
Mr. Curtis had seen it, but no, couldn't approve it. Mr. Curtis didn't say so, but Modoc County social services has been modestly famous for mismanaging funds, and clients, and so on.
Mr. Curtis pointed out that AWD would grab a nice $300,000 plus for their part in the work.
Lee Adams: "we're potentially… pulling tax payers in on the hook."
Dave G. to Mr. Curtis: "we want this program.'
Mr. Curtis always reminds the Board "the decision is yours to make," which they correctly translate to "it's your skivvies."
Ms. Holt suggested that if Mr. Curtis would present a contract which he felt was appropriate, she would present it to her Board.
Everyone wondered why they had not done that before taking up Board and Public time (because the press is just sooo busy).
There were some muttered complaints that Jim Curtis is binding things up in details. Declaring that an attorney is consumed with legal details is like complaining that a dentist spends too much time around lips; you might not think that's their primary job, but there's no way to get around them.
It remains to be seen if anything like 40 actual jobs can be found for the many worthy unemployed in the county.
Bob Marshall of Plumas Sierra Rural Electric Cooperative visited the Board to report on efforts to cause the California Public Utilities Commission to intercede in the pending sale of California units to a subsidiary of a Canadian electrical fund.
There has been strong local support for having PSREC take over Loyalton and Portola, and preferably to contract for electricity from the Loyalton cogen plant. PSREC charges more per kilowatt hour than does Sierra Pacific Power Company, but consumers report the service is excellent, with sound periodic maintenance and rapid response to outages. Further, PSREC has a conservative but locally based approach to providing services. There is strong confidence that with PSREC in charge of the local grid, the cogen plant, and intertie grids, the local power would stay on, and local money would stay local.
Supervisor Goicoechea stated that most people don't realize how fragile the local grid is. Mr. Marshall outlined some ways PSREC might better serve the local area.
Sierra Pacific Power Company has responded to the coalition which included PSREC, Truckee-Donner Public Utilities District, the City of Loyalton, City of Portola and the Boards of Sierra and Plumas. You can read a brief review of that HERE.
The Board went in to closed session, and when they came out, the meeting was over!