Board Highlights 012311
The SC Board of Supervisors met in continued regular session on Tuesday, January 18th. Supervisors Huebner, Nunes, Goicoechea, Schlefstein and Chair Adams were all present, and looked pretty stressed.
Kenny Osburn of Friends of Independence Lake came forward in public comment to ask that the issue of Independence Lake be taken from the water resources committee and brought to the full board. He made the point that it isn't a water issue, it's a road and access issue, and there wasn't expertise on the committee for this issue.
Chair Adams reminded him that the scheduled meeting was in the coming week (Wednesday, 26 January in Sierraville Ranger Station, 2:00 PM), that the board routinely assigned such tasks to committee, and that since it isn't on the agenda the Board couldn't act at this meeting. The Board will hear the item after the committee receives a report, and probably before the Lake really opens up (if it actually opens up under the empirical rule of TNC).
Then, the tension which was only potential became momentarily palpable. Director of All Hats Tim Beals, who is a tireless worker on behalf of the county and so something of a control freak, finally had enough crap from a know-nothing who wrote a pointless and counterfactual letter to a local newspaper, not named. He said he wanted to correct the impression of the letter which contained misinformation and took liberty with the facts.
Mr. Beals began to list some of the accomplishments the county had achieved in the last year. The SOS program created jobs, and thanks to a determination by the Board, it was managed in the county. Workforce Development has blossomed under the energy of Kathy Norris. CSAC EIS, thanks to Peter Huebner, arranged for the Loyalton Pharmacy to handle prescriptions for county workers, keeping thousands of dollars in the county. The County, with other participants, had challenged the NV Energy-Cal Peco sale, putting local consumers in a better position. The County worked with Trout Unlimited to move a bridge and improve a low-water crossing.
After he had spoken a few minutes County Council Jim Curtis spoke. He said that, first of all, Mr. Beals had taken more than the allotted three minutes, and secondly, he was a county staff member and not a member of the public, and this was public comment.
As an editorial aside, let's context this moment in the human world. Mr. Curtis, who seemed so tense you could bounce a quarter off his jaw muscles, was already in a steaming seat. He is implicated in alleged misconduct in a CWS claim, and he had an item further down the agenda to explain what the Board couldn't do about it. Mr. Curtis doesn't enjoy the spotlight, though of course he typically speaks very confidently. He was technically correct.
Tim Beals enjoys working, tries hard to do his best, typically knows more about what is going on than most in the room, and doesn't ask to be patted on the back for his efforts but also is getting sick of taking crap for doing his job well.
Both are full growed men, and in freer times we might have gotten to see Mr. Beals whup the crap out of Mr. Curtis, who, once he went to his knees would have been fallen on by all and sundry.
Mr. Curtis was wrong, even though he was technically correct. As Mr. Beals spoke, listing off the projects those who watch the Board remember being discussed, voted on, discussed more, reported on and on and on, the people in the room started to feel better. This reporter enjoyed a growing sense of accomplishment and an appreciation of the men and women who each do their part to keep the county going, the roads passable, the solid waste flowing, and that's the end of our six minutes.
In this reporter's view it was the first opportunity Mr. Curtis missed to snap his cake hole. Keeping in mind that, in general, I consider Curtis to be a pretty good, and pretty patient, county council. There is an inevitable time at which the laws and regulations which are intended to protect the peoples' freedoms eventually steal those freedoms through bullshit. As an astute observer of the human condition once remarked, "over-riding all legislation is the law of unintended consequences."*
Mr. Beals left the podium puffed up and hot to the touch and the tension in the room settled to a new and higher level. If we know our Tim Beals, we'll hear the rest of his list.
During the discussion Supervisor Huebner remarked that he was sick and tired of bad news. Like it's OUR fault!
Director of Health and Human Services Dr. Carol Roberts reported on recent successes by her department to maintain and perhaps increase the services provided in Sierra County by Eastern Plumas Health Care. She is encouraging EPHC to change the designation of the local facility to integrate health care and perhaps provide new services.
Director of Laughing Corporations said that LAFCO (Actually "
Local Agency Formations Commissions
") has approved Loyalton's Sphere Of Influence, (LSOI) giving the city increased authority over the land and the squirrels and cows that live there.
The Forest Service was represented at the meeting by Sierraville District Ranger Quentin Youngblood. His report included a report on his efforts to modify the Forest Service Travel Discouragement Plan to allow some extended use in some areas, particularly around hunting season. He hoped to add 122 miles of road to OHV use and designate 368 dispersment points where people could pull off the road to unload.
Supervisor Adams thanked Mr. Youngblood for working so hard to bring the Christmas tree cutting program to fruition. He remarked that local businesses and the public benefited.
Director of Outsider Shenanigans Tim Beals reported on an activity by the Yuba Ranger District and pointed to it as part of a growing trend of "meadow restoration" efforts. He stated that there are questions about meadow restoration which need to be answered, and he said that the Yuba district, in its grant application, called Sierra County a "cooperator" even though the county was never consulted about this project.
The project called for initial work done on Pauly Creek. (Not "Polly" Creek. Corrected 012611)
Supervisor Goicoechea discussed the problems with "meadow restoration" projects. He said that he read through the project and found not one word about water rights. He briefly acknowledged that local agricultural users are increasingly upset by the changes to water flow which actually benefit downstream users like Reno, NV and the Central Valley. The key issue is when, and how much, water comes from the watershed after modifications are made. It's an issue of importance the local users are likely to lose eventually, and it's playing out in Perazzo Meadows currently. Rumor has it that there will be a three year study to determine how the "plug and pond" project there has impacted water availability, but we've not been able to confirm that rumor.
Supervisor Goicoechea said that the Forest Service had not given state water law and local water rights the attention it legally should. He said the Forest Service displayed "an almost purposeful indifference" that "puts a lie to the process."
The Board agreed that there was no issue with the grantor of the process, The Sierra Nevada Conservancy. The issue is with the Forest Service.
Chair Lee Adams remarked that "All we're asking is to be invited to the party, no one is asking for dinner."
Greg Williams, of the Sierra Buttes Trails Stewardship, addressed the Board and told how Yuba District Forest Service projects such as Polly Creek are damaging the efforts of the stewardship and making it more difficult for people to access the forest.
The Supervisors remarked that there was generally no problem with the Sierraville Ranger District.
Quentin Youngblood took the podium to say that "watershed restoration" covers a variety of activities.
Citizens including Robert Eshleman and Bill Bate stood to talk about "coordination" which requires entities getting federal money to include local entities in planning.
The issue returned to water rights, with Mr. Goicoechea saying the plan represented a purposeful omission to avoid dealing with the issue.
The long and short of it: It might not be easy for the County to keep monsters from outside from stealing our water, but they sure intend to try.
The Board directed that an objection be sent to SNC over the grant.
It is unlikely that the Yuba District, which is headquartered in the Sacto Valley somewhere, will communicate well when it is so far from Sierra County.
Sheriff John Evans presented the Board with information on a program which helps people give their old meds to cops instead of selling them on
Craigslist
, as Chair Adams quipped. The Sheriff also told the Board that he supported Dr. Carol Roberts in how she did her job.
The Board approved the Yuba River Management Plan and submitted the Yuba River Corridor for nominaton as a National Scenic Byway.
A discussion ensued about money that High Sierra Rural Alliance owes the county for one of their counter-productive appeals.
It was acknowledged that the billing hasn't been standardized across appeals, and the County needs a new ordinance regarding billing.
Mr. Curtis got his teeth into this issue: The Board can modify the amount if they want to, but if the bill is submitted and HSRA doesn't pay, it will be sent to collections.
Mr. Curtis also reminded the Board of HSRA's last minute "document dump" which cost the county plenty in staff time.
HSRA will be getting a bill.
Two local folks were recognized.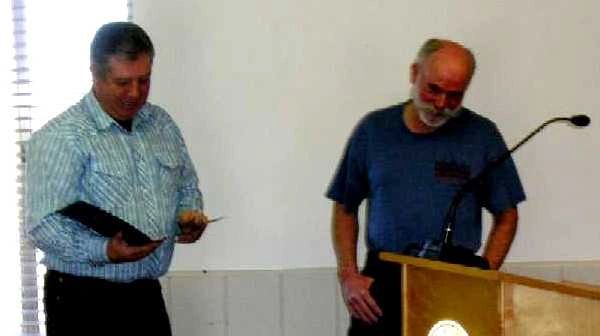 Mike Hudson was recognized for his time on the Loyalton City Council, and for countless hours in other kinds of community service totaling 23 years of service.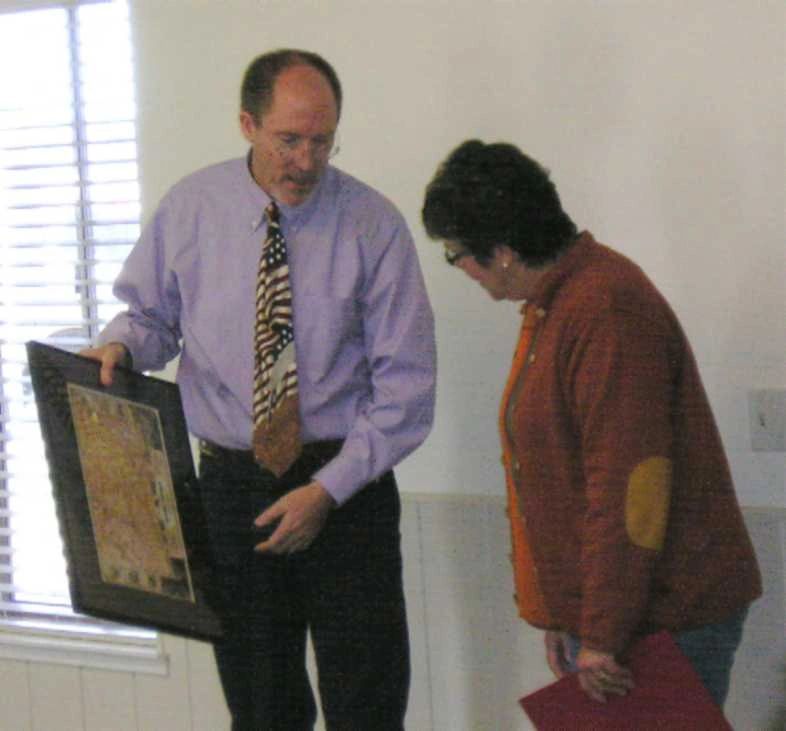 Jan Lovern was recognized for 6 years of service on the Planning Commission. In addition to a lengthy certificate she received a map of Sierra County from 1874.
County Council James Curtis passed his second opportunity to remain silent, and instead of referring the Board to a legal expert in the process, told them they had to oversee HHS and they must not, all at once. See the story from last edition
HERE
.
The Board kicked everyone out and spent hours in consultation, the meaning of which no one yet knows.
Good Luck!
Note: During the Board Meeting CHP Commander Bruce Carpenter introduced Sgt. Ed Giroux. Sgt Giroux is rather soft spoken, but he is an extra large policeman. If you get pulled over we imagine it might help to offer him honey.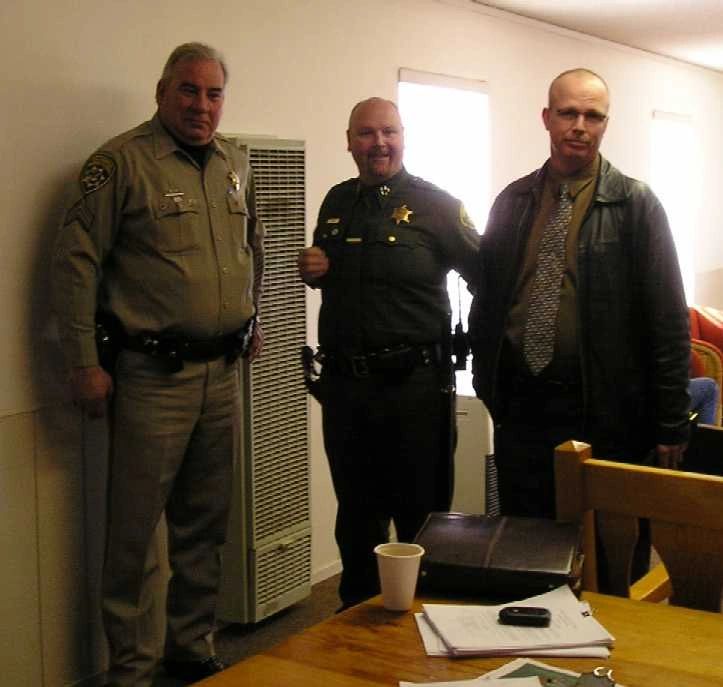 Sgt. Giroux with Sheriff John Evans and CHP Commander Bruce Carpenter.
*OK, it was I.