2/17/10
Arni and Abel
In 2003 when Arnold Schwarzenegger first threw his hat in the ring savvy pundits almost laughed; there weren't enough young males in the state to elect such a candidate as the "Terminator".
But, by golly, there were enough. Schwarzenegger has been a bitter disappointment to those of us who were sure he'd be a train wreck. As governors go, he's been among the best leaders in Sacramento for decades, even though he's repeatedly gridlocked the state legislature and delayed budgets so long the state was a national laughingstock. Indeed, the Governator has been stock laughingstock in the Prospect; regardless, he's been a strong leader, ready and obviously able to take on the legislature single-handed, and even mighty enough to shout across the continent at Washington D.C.
Perhaps his most revealing battle is the one he's fighting now over Abel Maldonado.
Schwarzenegger appointed Maldonado to fill the Lt. Governor's seat back in November, 2009, when John Garamendi was elected to the U. S. House. At that time, some pundits claimed his choice of Maldonado would prove contentious. To the editorial staff of the Sierra County Prospect, it was obvious that Maldonado, a moderate Republican who frequently crosses party lines, would be a shoe in.
Indeed, Maldonado's nomination sailed through the state senate committee, and was assumed to clear the assembly when, on Feruary 11th, four democrats balked, stifling the approval.
Or, did it? Arnold flatly refused the possibility and insisted he was going to swear Maldonado in, claiming that the assembly had failed to not approve the nomination. The Governator's opinion is that the assembly had to reject the nomination by 41 votes; the assembly insisted they had to approve the nomination by 41 votes. The actual vote was 37-35.
Andrea Lynn Hoch, Schwarzenegger's legal assistant, said, "Based on the Assembly vote, Senator Maldonado will be sworn in as Lieutenant Governor."
Arnold was poised on the verge of costly battle at a time when the state has a budget deficit of $20 million. He insisted he would swear Maldonado in and to hell with the assembly. He promised he'd have his attorney call.
Instead, the next day, he re-nominated Abel Maldonado even though, if the assembly does nothing, he wouldn't take the seat until May, and the election is in June.


"I am grateful to the leadership of the California State Senate for acting decisively and in a bipartisan manner in confirming Senator Abel Maldonado to the post of Lieutenant Governor. The display of extreme partisanship among Democrats in the Assembly yesterday resulted in legislative stalemate that can only be resolved through protracted litigation. Schwarzenegger, press release, 02/12/10
Maldonado, who blamed Schwarzenegger for a 2006 state controller loss, was first elected to the state legislature in 1991, when he was a fresh-faced 31. He currently holds the state senate seat from the 15th district. The Dems complain that Maldonado is in the pocket of the state's big energy corporations; he denies it. They further complain that, regardless his humble roots, he most often votes against the common person, in favor of large corporations.
Those humble roots are at the center of some of the controversy. Maldonado would be the first Mexican American Lt. Governor. Savvy politico watchers know the Latino vote in California is key.
Traditionally, Latinos have not had a high voter turn out rate, though on specific issues Latino leaders in California can summon thousands of voters. Latinos are often religious, traditional, family oriented and so often vote conservatively. On the other hand, issues of social support often resonate with Latino voters, and they vote with Democrats on those issues, particularly immigration. Latino voters generally preferred Hillary Clinton to Obama. All together, the Latino vote is not easy to pin down, and not easy to garner, but too potentially important to ignore. In 2006 Maldonado complained that Schwarzenegger didn't support Latinos enough. In 2009 Maldonado sided with Schwarzenegger, making a budget possible.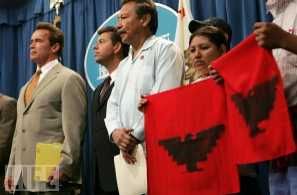 Make no mistake: Latino power
Photo, obviously, from Life.com, used because Life didn't prevent it with 41 votes.
The "budget deal" is what some see at the heart of Arnold's involvement. "Pass the budget and I'll line you up for Lt. Gov, then the Gov down the road."
The power of the Latino voters might be part of the equation; Arnold can't be president, but he could be a senator pretty easily. Still, some don't see Arnold as a "senator" kind of guy; he likes to run the whole show. Unless the Simpons Movie proves prophetic and Arnold is elected president, he won't need the Latino vote, and currently, he has little reason to serve Latino voters to the Republican party.


President Schwarzenegger, choosing three of five options at random,
 "I was elected to lead, not read."  From the Simpson's Movie

Arnold has always had a willingness to put his foot down with the legislators, but he seems unusually willing to fight over Maldonado. It might be the rest of Abel's story that motivates Schwarzenegger.
Arnold has constructed a legacy in the state. It hasn't all been his way, he lost on off-shore oil wells, but he has a number of significant achievements. The Prospect prognosticators predict he has but two tasks left: the Peripheral Canal, and a successor.
Is Maldonado a likely successor, a "Mini-Me" if you will? Let's consider.
 The Prospect Prognosticator
Arnold Schwarzenegger was raised in very humble conditions, indeed. He was born in 1947 to stern Roman Catholic parents in Austria, in Thal, a suburb of Graz. Graz is a fairly large city, but that part of the world can still be considered "hinterlands". Arnold's father was a police chief, and a hard character. He was a good Nazi and served in the German Army during the war. He was not an approving papa, and disfavored Arnold. Schwarzenegger described circumstances which would land parents in jail in today's California, but were seen as important to teach conformity. Children were seen as needing to be broken, but Schwarzenegger didn't break, he learned to bend.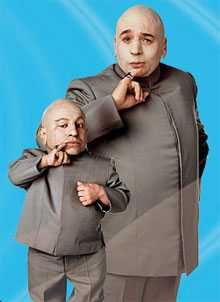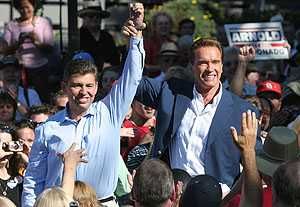 Dr. Evil and Minime; Austin Powers, The Spy who Shagged Me
Little Arnold decided he would grow up and leave Thal for a more profitable place: the U.S. He built himself, as a body builder, and as a competitor, and in 1966 he won the Mr. Universe competition. Winning again in 1968 he determined to move to the U.S. to become an actor. He took laborer jobs and struggled with his heavy accent, before finally being "discovered" in "Hercules in New York" at 23. It is said his accent was so heavy his lines were dubbed.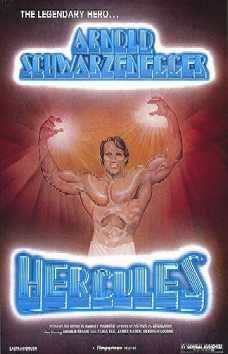 Early Arnold                                      Hercules Goes Bananas was the first title
Barbara Outland Baker, who was Schwarzenegger's significant other, is quoted as saying he is "a completely self made man." One of Arnold's many life stories, "Fantastic: the Life of Arnold Schwarzenegger" has been called a "story of relentless self promotion". He now owns several companies, and has an endless number of streets and buildings named after him.
In short, Arnold, a moderate Republican, a one-time illegal immigrant (a technicality), a self made man, is looking for a successor.
Consider Abel Maldonado. Maldonado was born to migrant workers who were able to secure the funding for a half acre strawberry farm. After attending a few years of college, he returned home to expand the farm to 6000 acres, with 250 workers. Dis-satisfied with local government, he ran for the city council of Santa Maria at age 26, and mayor at the age of 28.
While Maldonado hasn't become an international movie star or famous misogynist, like Arnold has, he's done well enough, coming from such a humble background. There is much about Abel for Arnold to identify with.  
Maldonado and frog, from his website 
here
It is interesting to note that, though Maldonado has taken large gifts from energy corporations, he doesn't necessarily support Arnold's lust for oil wells off the coast; still, he doesn't rule it out.
Even so, Arni and Abel see eye to eye, and we shouldn't be surprised to see Maldonado run for governor down the road. By then, the Latino vote might be better focused.
The Governador?