2 Rivers Food in D'ville!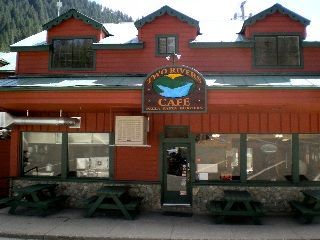 Ready to please!


Two Rivers Café opened to the public on Saturday evening April 21 and was packed to the gills with eager diners, both locals and visitors. The reigning consensus of the evening was the food was excellent, pizza great, top of the line "secret" house wine served, friendly and warm ambience. The menu is varied with enough choices to please all taste buds. The opening crew, Garrett Arends, Sana Lodhi, Corey Gregory, Max Blakley, Arin Wharff and Lodhi and Naseem will soon be joined by Lynn Berndt.
Fiancées Garrett Arends and Sana Lodhi who have moved to Downieville and live in the apartment above the Café are quickly becoming acquainted with locals and visitors. Garrett is the Chief Chef and attended the prestigious Culinary Institute of America (CIA) in St. Helena and Sana is the daughter of Lodhi and Naseem, proprietors of the Downieville Gas Station and the Downieville Grocery Store. The whole family has become an integral part of life in Downieville.
Photo Caption: left to right, Max Blakley, Corey Gregory, Garrett Arends, Sana Lodhi, Naseem and Lodhi.
Garrett is a native Californian, born and raised in Calistoga. Sana and Garrett met at Verizon where he was a Manager and Sana worked in Sales. Sana graduated from Santa Rosa Junior College and then attended Sonoma State receiving her degree in Child Psychology.
Local boy Corey Gregory who attended the Le Cordon Bleu program at the California Culinary Academy (CCA) is also a Chef at Two Rivers. The Café at full throttle will be serving breakfast, lunch and dinner and has a varied menu. Corey said, "this building has been a business pillar in the community and we will continue the tradition, helping to support local community economy."
Garrett agreed, "We want to serve great food for locals and visitors, and provide a great place to relax with a burger or pizza."
Lodhi chimed in saying the "minor facelift the building received was done with the thought of maintaining the historical ambience of the town." According to Lodhi this past weekend was a test run, Two Rivers will next be open Thursday the 26th for dinner and regular hours will soon be decided on and posted.
The general consensus of the town for opening was very positive. "We had a great time," said Carol Marshall, "everybody was chatting and visiting and our dinners were tasty."