Yuba Pass Chili cook Off This Saturday! 030211
The 17th annual Yuba Pass Chili Cookoff takes place this Saturday, March 5th, and it's easy to tell people are getting ready.
There's a stink coming from somewhere in Calpine that can only be fermenting butt of buck goat. It's starting to lose the skank smell and take on that sour tang that let's you know it's ready to fall off the bone; perfect for chile de la matanza de camino.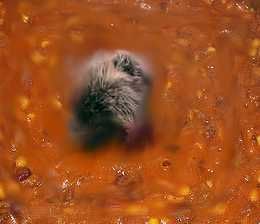 Chile de la matanza de camino
Locals know it's important to keep small pets close at hand as the date approaches, as cook off competitors will stop at nothing to produce just the right combination of weird and contradictory flavors to produce a chili interesting to those who have eaten the best, and the worst.
The weather promises to be cold and rainy, perfect weather for tasting Paint Peeler chili or chile quemadura del extremo, known for its "after burn".
If you love good chili, you'll be at the pass!
Details: get there plenty early; 10:00 is not too early. Map is
HERE